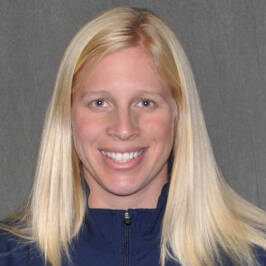 Nicole Alsobrooks is currently the Aquatics Director and Assistant Swim Coach, at Monmouth University where she oversees all aquatic operations while assisting longtime coach Matt Nunnally.
Nicole teaches PE-110 (Swimming) for the Health and PE department and enjoys providing a comprehensive foundation for recreational swimming.
Prior to Monmouth, Nicole was a swim coach, high school coordinator, and aquatic assistant at the Ocean County YMCA in Toms River, NJ 2011-2015. She brings many years of experience in both recreational and competitive swimming.
As a standout runner at Wake Forest University in Winston-Salem, N.C., Alsobrooks was the co-captain of the women's track and field team. The outdoor and indoor sprinter set two event records as a freshman and never looked back, as she would continue to set both individual and team records as a member of the Demon Deacons. In the spring of 2010, Alsobrooks was named to the All-Athletic Coastal Conference Academic Honor Roll.
Education
BA Elementary Education and Communication, Wake Forest University
Courses