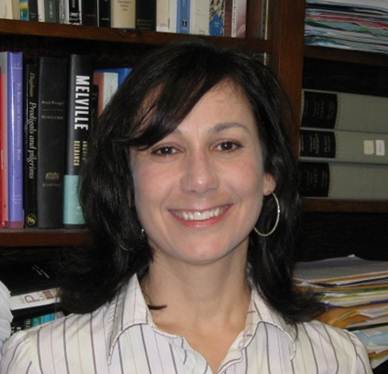 Lisa Vetere, Ph.D.
Associate Professor
Department Advising Coordinator
---
Department

Office

Phone

Email

Office Hours

Tuesdays, 2:00 - 4:00 p.m.; Fridays, 1:00 - 2:00 p.m.; and by appointment.
Lisa Vetere, Ph.D.
Education
Ph.D., Lehigh University
Research Interests
Dr. Vetere's interests include: early and antebellum American literature and culture with an emphasis on historiography and the historical romance; American studies; cultural studies; and feminist criticism.
Publications
Scholarly Articles
"Imagining the Mastery of Cotton Mather: The Performance of Antebellum Manhood in Charles Upham's Lectures on Witchcraft (1831)." Forthcoming in Clio A Journal of Literature, History and the Philosophy of History (Spring 2011)
"The Malefic Unconscious: Gender, Genre, and History in Early Antebellum Witchcraft narratives." Under revision by request for Journal of Narrative Theory
Forthcoming
All the Rage at Salem: Gender, Genre, and History in Early Antebellum Witchcraft Narratives (by request of University Press of New England)
Additional Information
SERVICE:
University Discipline Committee
First-Year Seminar Working Group
Executive Committee, FAMCO
Curriculum Committee, Gender Studies
Curriculum Committee, English Department
Courses
Frequently Taught Classes
Recently Taught Classes
2022 Spring
2021 Fall
2021 Spring
2020 Fall
2020 Spring
2019 Fall
2019 Summer B
2019 Spring
In the News