Erik X Raj, Ph.D. CCC-SLP
Assistant Professor
Speech Language Pathology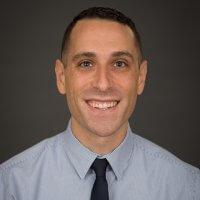 Ph.D, Wayne State University - Detroit, MI
M.S, Misericordia University - Dallas, PA
B.S, Stockton University - Galloway, NJ
Phone

Email
About

Erik X. Raj, Ph.D., CCC-SLP is an Assistant Professor and Clinical Supervisor in the Department of Speech-Language Pathology. He received his Doctor of Philosophy degree in Communication Sciences and Disorders from Wayne State University in 2015 as a Thomas C. Rumble University Graduate Fellowship recipient. While at Wayne State University as the lead doctoral student investigator within the Stuttering Research Lab, he conducted research that explored the psychosocial impact of stuttering. Dr. Raj's current research agenda at Monmouth University examines computer and Internet technologies and its implementation to speech-language therapy and education. In addition to developing numerous top-ranking educational iPad apps for children with communication difficulties, Dr. Raj regularly presents interactive workshops demonstrating how speech-language pathologists can use technology to motivate and teach students.

Publications

Scholarly Articles

Trichon, M. & Raj, E. X. (2018). Peer support for people who stutter: History, benefits, and accessibility. In B. Amster & E. Klein (Eds.), The Social, Emotional, and Cognitive Dimensions of Stuttering: More Than Fluency. (pp. 187-214). San Diego, CA: Plural Publishing.
Raj, E.X., Ahmed, N.N., & Hughes, C.D. (2017).  Digital Guest speakers who stutter: Student perceptions of videoconferencing within a fluency disorders class.  Clinical Archives of Communication Disorders , 2(3), 238-249. https://doi.org/10.21849/cacd.2017.00213
Raj, E.X ., & Daniels, D.E. (2017) Psychosocial support for adults who stutter: Exploring the role of online communities. Speech, Language and Hearing, DOI 10.1080/2050571X.2016.1253533
Raj, E. X. (2015). Articulation activities that children want to practice. In L. J. Brady (Ed.), Apps for autism: An essential guide to over 200 effective apps for improving communication, behavior, social skills, and more (2nd ed.), (pp. 67-71). Arlington, TX: Future Horizons, Inc.