Erik X. Raj, Ph.D. CCC-SLP
Assistant Professor
Speech Language Pathology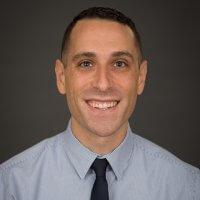 Ph.D, Wayne State University - Detroit, MI
M.S, Misericordia University - Dallas, PA
B.S, Stockton University - Galloway, NJ
Office

Graduate Center 175

Phone

Email
About

Erik X. Raj, Ph.D., CCC-SLP is an Assistant Professor and Clinical Supervisor in the Department of Speech-Language Pathology. He received his Doctor of Philosophy degree in Communication Sciences and Disorders from Wayne State University in 2015 as a Thomas C. Rumble University Graduate Fellowship recipient. While at Wayne State University as the lead doctoral student investigator within the Stuttering Research Lab, he conducted studies that explored the psychosocial impact of stuttering. Additionally, as a licensed and certified speech-language pathologist, he clinically supervised within Wayne State University's Intensive Stuttering Clinic where he oversaw and facilitated multidimensional stuttering treatment to teenagers and adults who were diagnosed with childhood-onset fluency disorder.

At Monmouth University, Dr. Raj teaches courses within the Department of Speech-Language Pathology's Graduate Program, as well as within the University's Minor in Communication Sciences and Disorders. His current research agenda examines computer and Internet technologies and its implementation to speech-language therapy and education. In addition to developing numerous top-ranking educational iOS apps for children with communication difficulties, Dr. Raj regularly presents interactive workshops, at the national and international level, where he demonstrates how speech-language pathologists can use digital technology to motivate and teach students.

As a dedicated clinician, each summer Dr. Raj volunteers as a speech-language pathologist at Camp Shout Out in Holton, Michigan. This one-of-a-kind sleep away summer camp for young people who stutter allows practicing clinicians the opportunity to participate in a hands-on, unique continuing education training with a leadership team directed by Board Certified Specialists in Fluency. This residential, interactive therapeutic experience in a traditional summer camp environment continues to mold him as a practitioner.

Publications

Scholarly Articles

Hughes, C. D., Daniels, D. E., Raj, E. X., & Ghent, A. (2019). Using actors and peers in the clinical education of stuttering: Results from a mixed methods study. Clinical Archives of Communication Disorders, 4(1), 21-34. https://doi.org/10.21849/cacd.2019.00031
Trichon, M. & Raj, E. X. (2018). Peer support for people who stutter: History, benefits, and accessibility. In B. Amster & E. Klein (Eds.), The Social, Emotional, and Cognitive Dimensions of Stuttering: More Than Fluency. (pp. 187-214). San Diego, CA: Plural Publishing.
Raj, E.X., Ahmed, N.N., & Hughes, C.D. (2017). Digital Guest speakers who stutter: Student perceptions of videoconferencing within a fluency disorders class. Clinical Archives of Communication Disorders , 2(3), 238-249. https://doi.org/10.21849/cacd.2017.00213
Raj, E. X., & Daniels, D. E. (2017). Psychosocial support for adults who stutter: Exploring the role of online communities. Speech, Language and Hearing, 20(3), 144-153. https://doi.org/10.1080/2050571X.2016.1253533
Raj, E. X. (2015). Articulation activities that children want to practice. In L. J. Brady (Ed.), Apps for autism: An essential guide to over 200 effective apps for improving communication, behavior, social skills, and more (2nd ed.), (pp. 67-71). Arlington, TX: Future Horizons, Inc.