University to dedicate home of student newspaper in Deutsch's honor at Nov. 11 ceremony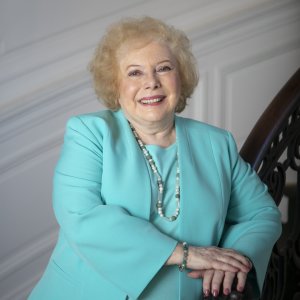 WEST LONG BRANCH, N.J. – A celebrated 1965 graduate of Monmouth University who built a legendary career in journalism will return to the campus on Nov. 11 to be honored for her achievements and her generosity to her alma mater. Linda Deutsch, the esteemed Associated Press trial reporter, has pledged a $1 million planned gift to establish an endowed scholarship fund for aspiring Monmouth journalism students.
In recognition of her generosity and storied career, the university will dedicate the office space of the student-run newspaper, The Outlook, as the "Linda Deutsch '65 Student Journalism Center." Deutsch was an editor and reporter for The Outlook from 1961 to 1965.
The ceremony will take place at 5 p.m. on the second floor of the university's Jules Plangere, Jr. Center for Communication, where The Outlook is currently located. Plangere was publisher of the Asbury Park Press when Deutsch launched her career there. The Linda Deutsch '65 Student Journalism Center also encompasses rooms previously named by E. Donald Lass, former publisher and editor-in-chief of the Press and a former colleague of Deutsch's, as well as Sandy and David Wilson '80, senior reporter at Bloomberg News.
Deutsch, who lives in California, will be on campus to inaugurate the center, which will showcase archival displays and photos donated by the AP.  After the celebration, Deutsch will be inducted into the Department of Communication Alumni Academy at a dinner awards reception in Woodrow Wilson Hall.
"Linda is not only a champion for women journalists, she is also a role model for the profession at large," Monmouth University President Patrick F. Leahy said. "We are honored to recognize her legacy of journalistic integrity and grateful for her dedication to the field of journalism by supporting students at her alma mater."
Deutsch, who has been referred to as "the most trusted voice in court journalism," is a Pulitzer Prize-nominated journalist whose career spans more than 50 years. A symbol of AP excellence from 1967 until her retirement in 2014, Deutsch has covered some of the highest profile legal proceedings in modern history, including the Charles Manson trial, the trial of Robert F. Kennedy's assassin, and the trials of O.J. Simpson and Michael Jackson.
"Monmouth has had such a transformative impact on my life and career, which is why I have decided to give back," Deutsch said. "In a time when journalism is under attack on many fronts, I am convinced that meaningfully supporting young reporters and editors will save my beloved profession from extinction. It is my hope that the scholarship fund that has already begun helping students in a modest way during my lifetime, in addition to my bequest intention after I am gone, will allow more students to experience an exceptional education and carry on my legacy in reporting the news."
When Deutsch first joined the AP, she was the only woman in the Los Angeles bureau. Over the course of her career, she rose through the ranks and in 1992 earned the title of special correspondent, a designation bestowed on only 18 reporters since the news cooperative was founded in 1846. Deutsch has proudly noted that an AP reporter covered Lincoln's Gettysburg Address and another rode with George Armstrong Custer to his death at the Battle of the Little Bighorn. Deutsch's title gives her a permanent place in AP's rich history.
Deutsch graduated from then Monmouth College in 1965 with a bachelor's degree in English. While at Monmouth, she served as a feature editor for The Outlook and editor-in-chief of Monmouth Letters (now Monmouth Review), an award-winning literary and art magazine. In 1996, she was awarded the university's Distinguished Alumni Award.
Mark D'Aquila, a junior communication major who is a recipient of a Deutsch-supported annual scholarship currently awarded to journalism students, said, "Throughout my entire life, sports and writing have been my greatest passions. Linda's generosity has helped me pursue those passions as a student at Monmouth and as the sports editor for The Outlook. I know firsthand that scholarships make a huge difference in students' lives, and I am excited for what the future holds for Monmouth Hawks in journalism."
A New Jersey native, Deutsch began her journalism career at a local newspaper, the Perth Amboy Evening News, while she was still in college. She then went on to work at the Asbury Park Press through the rest of college before moving to California and pursuing her career with the AP, the world's largest news organization, where her stories would be transmitted worldwide.
Deutsch was a Pulitzer Prize nominee for her work on the O.J. Simpson trial and has been recognized with the prestigious Oliver S. Gramling Award, the highest internal honor of the AP; the Los Angeles Press Club's President's Award; the Society of Professional Journalists' First Amendment Award; and the International Women's Media Foundation Lifetime Achievement Award. In 1992, she received the University of Missouri's Honor Medal for Distinguished Service in Journalism, which recognized her as "one of journalism's pre-eminent trial specialists" and commended "her ability to use the American courtroom as a vantage point on the issues and values of our time; her dedication to the press as a representative of the public in our judicial system; and her commitment to the tradition of diversity and excellence in all aspects of reporting."
Jonathan Meer, vice president for university advancement, said, "This spectacular planned gift from Linda Deutsch, one of our most accomplished graduates, sends a powerful signal: Monmouth alumni are committed to making educational opportunities available for future members of the Hawk family. In this hyper-competitive market, Linda's gift will help Monmouth continue to attract and retain top-quality students regardless of their financial means."