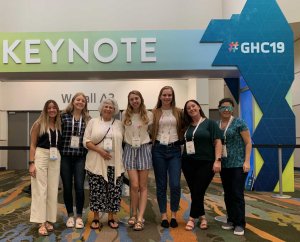 Seven students from the University's Department of Computer Science and Software Engineering as well as Jamie Kretsch, specialist professor in the department, attended the annual Grace Hopper Celebration of Women in Computing (GHC) held Oct. 1 to 4 in Orlando, Florida.  The world's largest gathering of women technologists, the GHC hosted over 25,000 attendees and 400 companies in the computing and engineering field.
This year, scholarships were awarded to sophomore Shannon Coyle, senior Kaitlyn Vroman and Kretsch. Attendance for graduate student Marie Furda, senior Patrycia Skora, juniors Victoria Johnson and Janine Fredericks, and sophomore Angela Kliks was made possible through a combination of student travel and department funds.
According to Kretsch, representatives from the University began attending the annual GHC event in 2014. That year, Kretsch discovered the GHC at another event dedicated to increasing participation of women and other underrepresented communities in computing. Kretsch and several of her students were awarded a scholarship to the GHC in 2014, and thus the practice of encouraging students to apply for scholarships and supporting student attendance began.
Since then, over 30 Monmouth representatives have joined women in technology and computing at the GHC, learning about the contributions of women in computing, listening to award winning speakers and representatives of industry, academia and government, and developing networking skills.
Students and faculty alike are offered a variety of activities, including student/industry mentoring circles and a professional development track designed specifically for faculty attendees. GHC also hosts one of the largest career fairs in the U.S., and over 60% of Monmouth student attendees have landed their full-time job or an internship as a result of the GHC, according to Kretsch.
"We couldn't be more proud of the excellent reputation Monmouth University computer science and software engineering students have earned among employers at GHC," said Kretsch.
According to the National Center for Women & Information Technology, while women were awarded 57% of U.S. bachelor's degrees in 2017, only 19% of the degree recipients in computing and information sciences were women. On the employment front, only 26% of professional computing occupation positions are held by women, as compared to the overall 57% of women in professional occupations.
Kretsch said that these statistics underscore the importance of bringing together women technologists at events like the GHC.
The GHC was founded in 1994 and is organized by the Anita Borg Institute for Women and Technology and the Association for Computing Machinery. It is named after computer scientist and U.S. Navy Adm. Grace Hopper.