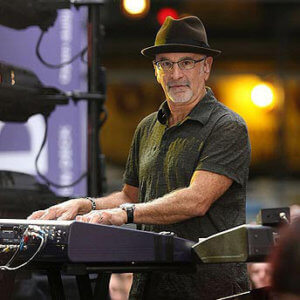 E Street Band keyboardist Roy Bittan will be the featured guest on the second episode of "What's Up on E Street?," a new online series presented by the Bruce Springsteen Archives and Center for American Music at Monmouth University.
The new series highlights the individual members of the band and how they are dealing with the global COVID-19 pandemic. Topics covered include how they are spending their days, and how the pandemic is impacting their creativity.
The episode goes live on Tuesday, July 14 at 10 a.m., and can be accessed on the Bruce Springsteen Archives & Center for American Music website or via the Springsteen Archives' Facebook page.
"I think it's important to capture the impact of COVID while it's actually happening," said music historian Bob Santelli, who created the series. "Getting impressions and feelings about what's going on in America these days, especially from members of the E Street Band, will serve a valuable purpose years from now."
"COVID has touched most every part of the music business," said Bittan from his home in southern California. "Tours and recording sessions have been cancelled. The whole music scene is on hold. But musicians like me get to play for ourselves and for loved ones. So, I'm keeping busy, but long for the day when things get back to normal."
Bittan is the longtime keyboards player in the E Street Band. Joining with Springsteen in 1974, Bittan has provided the memorable piano solos in Springsteen's vast catalogue of songs. "Born to Run," a Springsteen album steeped in the piano, featured Bittan's keyboard work on such signature tracks as "Backstreets," "Thunder Road," and "Jungleland." Nicknamed the "Professor" for his studied take on music and his college education, Bittan is also accomplished producer and session musician, having worked with David Bowie, Jackson Browne, Stevie Nicks, Bob Seger, and many others.
About the Springsteen Archives:  
The Bruce Springsteen Archives and Center for American Music at Monmouth University serves as the official archival repository for Bruce Springsteen's written works, photographs, periodicals, and artifacts.  The Center preserves and promotes the legacy of Bruce Springsteen and his role in American music, while honoring and celebrating icons of American music like Woody Guthrie, Robert Johnson, Hank Williams, Frank Sinatra, and others.  The Archives comprise nearly 35,000 items from 47 countries, ranging from books and concert memorabilia to articles and promotional materials. The collection serves the research and informational needs of music fan, scholars, authors, and others with a serious interest in the life and career of Bruce Springsteen. Access to the collection is available by appointment only. Contact Eileen Chapman at the Bruce Springsteen Archives and Center for American Music at 732-571-3512 or echapman@monmouth.edu.