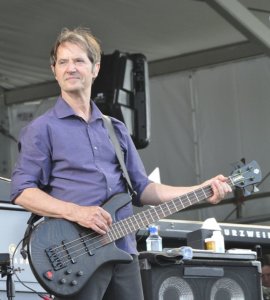 E Street Band bass guitarist Garry Tallent will be the featured guest on the next episode of "What's Up on E Street?," a new online series presented by the Bruce Springsteen Archives and Center for American Music at Monmouth University.
The new series highlights the individual members of the band and how they are dealing with the global COVID-19 pandemic. Topics covered include how they are spending their days, and how the pandemic is impacting their creativity.
The episode goes live on Tuesday, July 28 at 10 a.m., and can be accessed on the Bruce Springsteen Archives and Center for American Music website or via the Springsteen Archives' Facebook page. Previous interviews with other E Street Band members Nils Lofgren, Roy Bittan, and Max Weinberg are also available.
"The interviews we've done thus far have been interesting and enlightening," said music historian Bob Santelli, creator of the series. "Fifty years from now, the words and frustrations echoed by E Street Band members about the COVID pandemic and America in 2020, will, I think, offer a glimpse of where things stood in what may be the most turbulent year in our nation's history since 1968."
"COVID has impacted my life, just like it has everyone else," said Tallent. "The thing is to keep busy, find useful things to do, and stay connected to the important things in life."
Bass player Garry Tallent is the longest-serving musician in the E Street Band, having been a key member since its origins in 1972. Tallent's strong and steady bass patterns provide much of the foundation for Springsteen's music. A student of the blues, soul, and rhythm and blues, Tallent's knowledge of these American music forms goes back to his teen years on the Jersey Shore when he first started collecting records. In addition to being a member of the E Street Band, Tallent has done a number of outside recording projects, the most latest being one with Bob and Mike Delevante.
About the Springsteen Archives:  
The Bruce Springsteen Archives and Center for American Music at Monmouth University serves as the official archival repository for Bruce Springsteen's written works, photographs, periodicals, and artifacts.  The Center preserves and promotes the legacy of Bruce Springsteen and his role in American music, while honoring and celebrating icons of American music like Woody Guthrie, Robert Johnson, Hank Williams, Frank Sinatra, and others.  The Archives comprise nearly 35,000 items from 47 countries, ranging from books and concert memorabilia to articles and promotional materials. The collection serves the research and informational needs of music fan, scholars, authors, and others with a serious interest in the life and career of Bruce Springsteen. Access to the collection is available by appointment only. Contact Eileen Chapman at the Bruce Springsteen Archives and Center for American Music at 732-571-3512 or echapman@monmouth.edu.