Michael Cronin, Ph.D., and Anne Deepak, Ph.D., associate professors in the School of Social Work, represented the International Federation of Social Workers (IFSW) United Nations (UN) Commission at the strategic planning meeting in Geneva, Switzerland in June.
Appointed members of the IFSW UN region teams—New York, Geneva, Nairobi, Vienna, Bangkok, and Santiago—met with IFSW UN Global Commissioner Priska Fleischlin, and other global, non-governmental organizations, to help strengthen the IFSW's relationship with UN agencies.
"The intention of this meeting in Geneva was to take our mission to another level, and now we have a revised vision and an aim. We're going to add to this work and over this next year, present to IFSW executive and member organizations for approval," said Cronin, who is also the program director of Monmouth University's Master of Social Work program.
Over a three-day period, the IFSW UN Commission updated its statement of intent during meetings at the UN office in Geneva, a local community center, and two, four-hour planning meetings by train.
The commission also continued its work on the People's Charter for an Eco-Social World and promoted that vision while meeting with: the World Health Organization, the UN Research Institute for Social Development Mental Health Team, International Labour Organization Child Labour Team, and the International Federation of Red Cross and Red Crescent Societies Gender, Inclusion, and Diversity Unit.
"In each of these meetings we needed to not only figure out what we're going to do for the next five years, but to also make significant partnerships with these agencies … These meetings were quite successful in forging collaborative relationships for our work together with some key initiatives identified," said Cronin.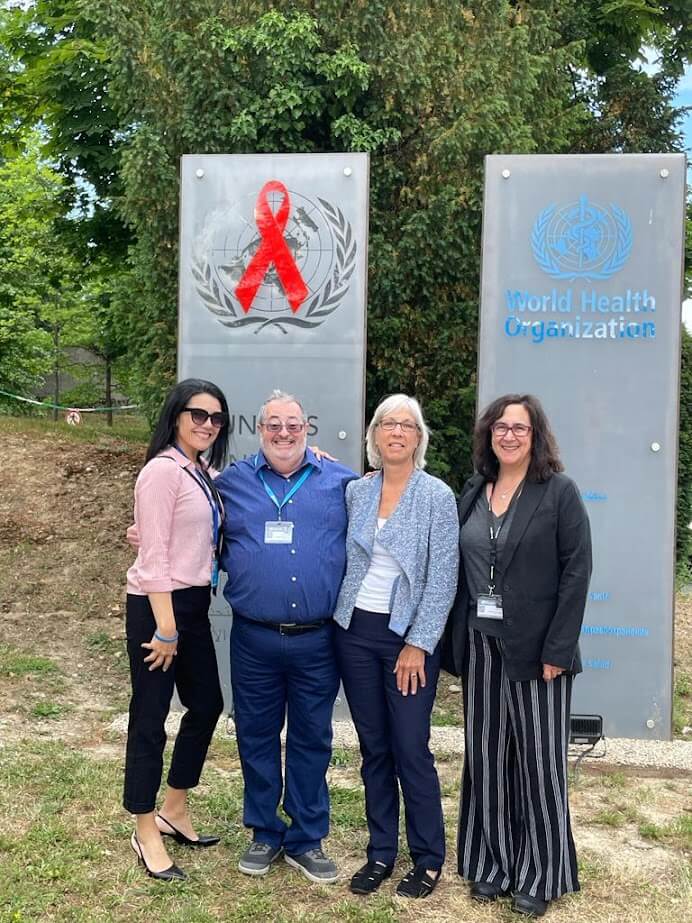 Monmouth University has three representatives on the IFSW UN New York team, Cronin, Deepak, and Robin Mama, Ph.D., founding dean and professor in the School of Social Work—making Monmouth the only institution of higher learning to have multiple members on a region team.
The University is additionally represented by social work graduate student Sophia Caporusso, who is currently an intern through a program exclusive to the New York team.
"I have so much gratitude for the opportunity to work with, and learn from, Michael and Robin who have been instrumental in building the infrastructure for our work as a team for the IFSW UN Commission. Being from the same university is very unique—it enables us to easily meet, plan, and process our work at the UN together. We are also able to weave the lessons learned from our work into our bachelor's, master's, and doctoral curricula," said Deepak.
Deepak is the newest member of the University community to serve as a New York representative and is the mentor for the internship program. She also co-authored a policy paper that was adopted by the IFSW.
Cronin has been working with the IFSW for 27 years and currently serves as the UN commissioner for North America and the main New York representative, while Mama has been working with the IFSW for 22 years and also works as New York representative.
"The respect and collaboration that we have been able to generate at the United Nations for IFSW, and for the social work profession in general, is immense and unmeasurable. Our work has also put Monmouth University's name into that professional international arena," said Mama. The IFSW is a worldwide body for professional social work that supports 150 member countries, comprised of over 141 associations, and represents over five million social workers worldwide. The commission supports IFSW representatives and IFSW members to act as facilitators, bridging the gaps between community's aspirations and UN agendas.