Like many of the greatest singer-songwriters, Martin Sexton has always had that knack for convincing the listener that he was "singing just to me"—even with a big and soulful voice that seemed born more to testifying from a mountaintop than cooing in a corner cafe.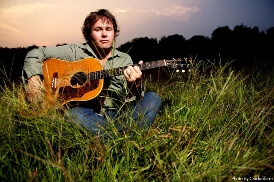 The downside to that? The devoted listener must learn to share the gifted artist with many thousands of other devotees—a list that includes Dave Matthews (who called Sexton "one of my favorite singers and songwriters"), John Mayer (who branded him "the best live performer I've ever seen"), and a large subset of music press people.
Since emerging from the local Boston scene in the mid-1990s, Martin Sexton has performed for ever-larger crowds, at venues that have ranged from literal street corners and the smallest rock clubs, to major theaters and huge festivals like Mile High and Bonnaroo. Together with a rocking new band, the singer also spent much of 2011 touring behind his most recent release, Sugarcoating—including a run of opening dates for Matthews that placed him in front of some of his biggest audiences to date.
When he takes the stage of the Pollak Theatre at Monmouth University on Friday, December 9, Martin Sexton will be dialing it back a notch, to the extent that he'll be leaving the band at home, packing his guitar and his exquisite sense of songcraft, and doing what he perhaps does better than anybody else—delivering "An Intimate Solo Acoustic Performance."
Subtitled "A Winter Night," Sexton's 8 p.m. show will find the acclaimed performer purely in his element; making new friends, displaying his awe-inspiring command of the concert dynamic, and turning any hall of any size into a place as intimate as the street corners on which he busked for tips at the start of his career.
The intricate skills of the seasoned street performer remain on display in Sexton's solo sets, from the improvised scatting and beatboxing, to the fingerstyle guitar technique and the versatile vocalizing that ranges from a soulful croon and a folkie's conversational storytelling, to a bluesy moan, a heavy metal wail, and beyond.
Then of course there are the songs—featured numbers from network TV shows ("Diner"), fan favorites ("Can't Stop Thinking About You," "Young and Beautiful"), stripped-down cuts from Sugarcoating—and, maybe best of all, the trademark surprise covers of signature tunes from Jimi Hendrix, Pink Floyd, Prince, and many others. Like Ray Charles, Frank Sinatra, and the very best of the best, Martin Sexton makes the all and everything of music something all his own. Martin Sexton is that good.
While Winter won't officially start for a couple of weeks, Sexton's December 9 appearance will find a warm and comfortable home inside Monmouth University's flagship auditorium, a performance venue that has been justifiably hailed as one of New Jersey's premier theaters for acoustic music. The concert follows recent shows by Nils Lofgren and the Indigo Girls, as well as earlier 2011 dates by folk-rock legend Roger McGuinn, international hitmaker Colin Hay, and musically minded movie star Jeff Daniels.
To purchase tickets, or for additional information on the 2011-2012 Performing Arts season, please contact the Monmouth University Performing Arts Box Office at 732-263-6889, or go online atwww.monmouth.edu/arts. To schedule an interview, please contact Eileen Chapman at 732-571-3512.