Monmouth University unveiled the completion, remodeling and expansion of its science facility in a celebratory ribbon-cutting ceremony on Tuesday, Feb. 13, 2018 in the expanded lobby of the Edison Science Building.
Special guests, including state leaders, elected officials, business and community leaders and members of the university's Board of Trustees joined University President Grey Dimenna and Dean of the School of Science Steven Bachrach as they officially opened the completed renovated facility.
Among those in attendance were Sen. Vin Gopal, N.J. State Senator from the 11th District, Eric Houghtaling and Joann Downey, N.J. State Assemblypersons from the 11th District, Janet Tucci, Mayor of West Long Branch, N.J., and Rochelle Hendricks, N.J. State Superintendent of Higher Education. Board of Trustees Chair Michael Plodwick and former chair Henry Mercer assisted with the ceremonial ribbon-cutting.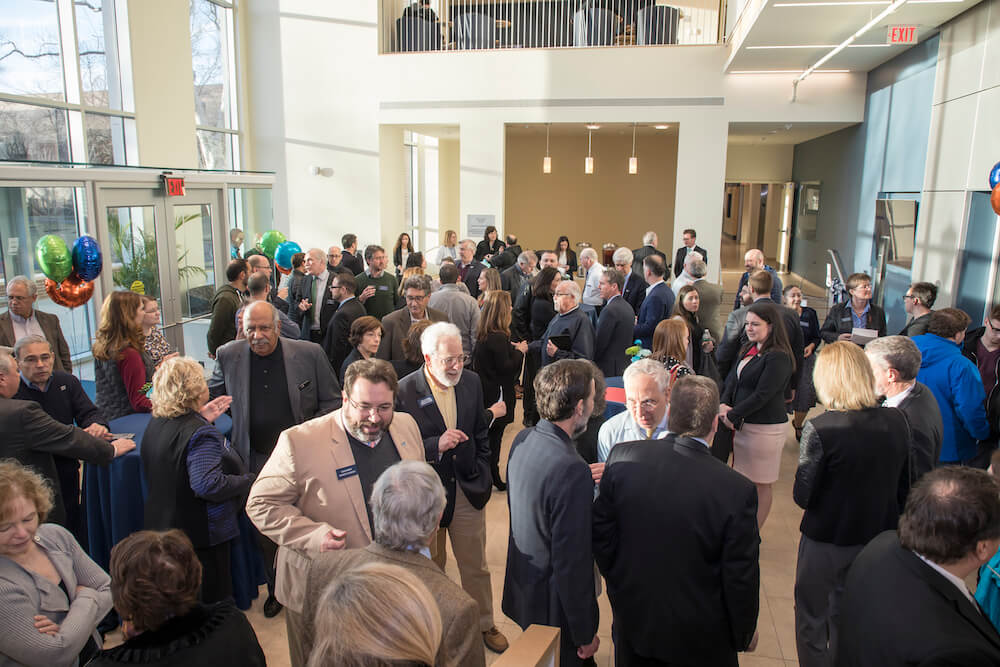 Guests were also treated to tours of the renovated space, which, according to information from the School of Science, includes:
• Dean's Suite – 4 private offices, conference room and reception area
• Department Office Suite – 2 private offices, reception area
• 38 Faculty Offices
• Urban Coast Institute Suite – 6 offices, reception area
• Peer Mentor space
• 12 Classrooms
• 1 Computer Lab
• 12 Faculty Research Labs
• 4 Conference Rooms
• 1 Multipurpose room
• 6 Study Rooms
• 15 Write up Rooms
• Anatomy storage/study rooms
• Warm/cold room
• Tissue Culture Lab
• 7 Prep Labs
• 1 Faculty workroom
• 9 Instrument Labs
• Herbarium
• Vivarium
• 1 Seminar Room
• Hazardous waste room
• Open study spaces
• Equipment repair and storage room
• 55 Fume Hoods
• 11 Biosafety Cabinets
• Adjunct Office Space
The science building project benefitted from $5 million in state funding through New Jersey's Building Our Future Act and the state's Capital Improvement Fund.