Kenneth Womack, Ph.D., professor of English and popular music, and Joe Rapolla '90 MBA, specialist professor and chair of the department of Music and Theatre Arts, recently published "Introducing the Beatles: Background and Resources" (Kendall Hunt Publishing Co., 2023).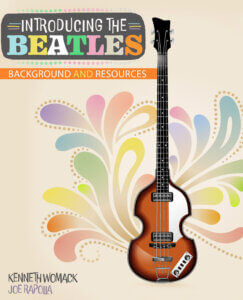 "Introducing the Beatles" is designed for teachers and students of the Beatles interested in placing their "remarkable musical output within the context of their years as a working rock 'n' roll group." QR codes are embedded throughout the publication to play each track on Spotify.
The book is divided into five sections, with the first section offering a biographical chronology tracing the bandmates' lives and recordings from 1940 to present day. Section two follows the evolution of the Beatles' standard UK studio albums and singles releases from 1963-1970, plus an anthology project in the 1990s. Section three addresses the terminology occasioned by the advanced study of the band in an effort to afford teachers and students alike a sense of the larger contours of their artistic accomplishments, while sections four and five provide a discography and a bibliography, and sources for further reading.
The publisher notes, "'Introducing the Beatles' will find a regular readership via course adoptions, while also enjoying a wide audience of general readers who take every opportunity to learn more about the band's exciting and, at times, moving story."
Womack is a leading Beatles scholar, having published his research about the band with such vaunted presses as Oxford, Cambridge, and Cornell. His latest project, a much anticipated two-volume study under contract with HarperCollins, addresses the life and times of Beatles roadie Mal Evans. Womack's work has been featured in the pages of Rolling Stone, while earning him opportunities to serve as an expert commentator for ABC's "20/20" and NBC's "Access Hollywood." He also serves as the Music Culture critic for Salon and hosts the popular Everything Fab Four podcast.
Rapolla is a veteran music industry consultant, having partnered with the world's leading entertainment, media, and sports brands, including Universal Studios, MTV, HBO, Apple, Sony, IPG, BMI, and CBGB. He built and headed the Integrated Consumer Marketing departments at both Universal Music and Warner Music Group, where he successfully introduced and created direct-to-consumer marketing/CRM strategies, campaigns, and platforms. At Monmouth University, he has reimagined the music industry curriculum, providing students with innovative, hands-on activities, including the student-run record label, Blue Hawk Records, and internship opportunities.