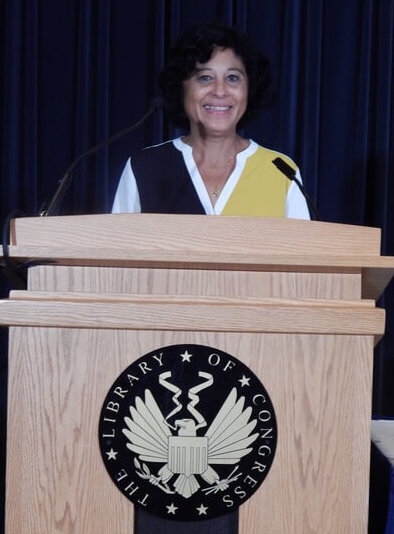 Priscilla Gac-Artigas, Ph.D., fulbright scholar, and professor in the Department of World Languages and Cultures, was elected full member (académica de número) of the North American Academy of the Spanish Language (ANLE for its acronym in Spanish) in Dec. 2021. Full member is the highest rank within the academies. Being a full member of one of the 23 existing Spanish language academies around the Hispanophone nations and territories represents one of the highest honors for any philologist or expert of the language.
As a full member of the North American Academy of the Spanish Language, she automatically becomes a corresponding member of the Real Academia Española-RAE (Royal Spanish Academy), Spain's official royal institution, founded in 1713. In the words of its founder, Juan Manuel Fernández Pacheco, Duke of Escalona and Marquess of Villena, it aims "to assure that Spanish speakers will always be able to read Cervantes."
The North American Academy of the Spanish Language was founded in 1973. Its mission is the study, elaboration, and implementation of the normative rules of Spanish in the United States of America. As part of that mission, the ANLE a) advises public and private institutions on the standard use of Spanish spoken in the United States (español hispanounidense); b) ensures that the Spanish spoken by the hispanounidenses (native speakers, or persons of Hispanic origin or ancestry residing in the United States) serves as a basis for strengthening authentic bilingualism that enriches U.S. culture; c) collaborates in projects and the elaboration of study plans for the teaching of Spanish in the United States at all levels of schooling, in addition to promoting and strengthening the Hispanic cultural heritage. Philologists, writers, poets, and educators are among its members. 
In April 2022, Gac-Artigas will participate in an incorporation ceremony where she will present a keynote speech on her most recent area of research, the transgression of the boundaries of autofiction in literature and the arts to create a "collectfiction" of a particular era. "Collectfiction" is a term developed by Gac-Artigas to describe autofictions that transgress the limits of the personal experience through a referential reading pact that involves the reader transforming the work into a work of collective fiction, or "collectfiction," of a particular era. She will be receiving a diploma and an institutional medal.