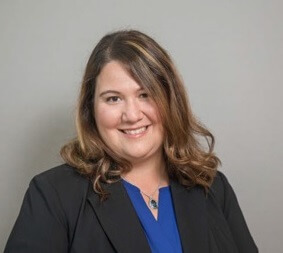 Alyson Pompeo-Fargnoli, Ph.D., assistant professor of educational counseling in the School of Education, was invited to present two presentations at the Annual New Jersey Counseling Association Conference. The conference, held virtually this year, included counseling professionals and students from throughout the state and beyond.
Pompeo-Fargnoli's first presentation was entitled "The Heart-Mind Connection: Considerations for Counselors, Supervisors, and Counselor Educators."
During this presentation, Pompeo-Fargnoli and her co-presenter, Anthony Fargnoli, Ph.D., assistant professor from NYU's cardiothoracic surgery department, dove into the connections between mental and physical health.
"For instance, there are known anti-depressant medications that have been shown to simultaneously improve heart health—thus further supporting the heart and mind connection," Pompeo-Fargnoli said.
Pompeo-Fargnoli's other presentation, "I Can See Clearly Now the Stigma is Gone: Mental Health Stigma Misperceptions and Implications for Minority College Students," focused on Pompeo-Fargnoli's research study around mental health misperceptions on college campuses.
"This research study revealed multiple findings, including that levels of mental health stigma are often grossly over-estimated by college students, which can prevent them from seeking needed campus counseling services," Pompeo-Fargnoli said.
Her research also included findings and implications regarding minority college students and their stigma perceptions and help-seeking behaviors.
Both presentations were well-received and well attended, and included multiple implications and considerations for counselors, counselor educators, and counseling supervisors.
About the New Jersey Counseling Association
The New Jersey Counseling Association, a state branch of the American Counseling Association, is a professional association that advances the counseling profession through the professional development of counselors and counseling students while expanding public recognition and awareness of the profession. For more information, visit njcounseling.org.