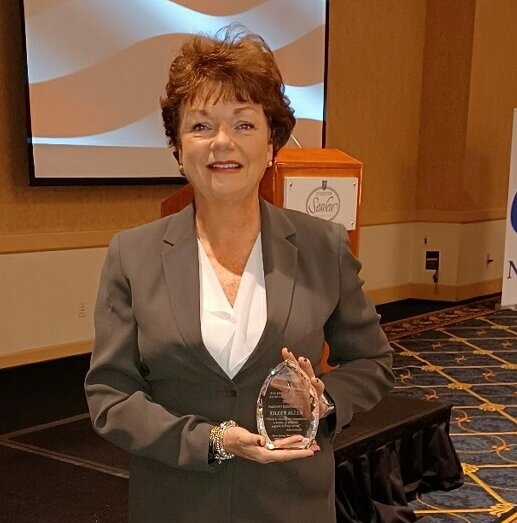 Eileen Allen, MSN, RN, FN-CSA, adjunct professor in the departments of Nursing and Health and Physical Education, recently received the inaugural Krisza Award, a lifetime achievement award presented by the New Jersey Sex Crimes Officers Association (NJSCOA) to an individual or individuals who have demonstrated a lifelong commitment and extraordinary contributions to investigating and preventing sex crimes and child abuse.
Allen is a retired forensic nurse examiner and former sexual assault response team and strangulation/smothering evaluation team coordinator for the Monmouth County Prosecutor's Office. She began her career in 1996, and was instrumental in creating the forensic sexual assault examination kits currently used statewide during a SART exam, as well as in developing and implementing the first SANE/SART Program in New Jersey. This highly successful program has since been adopted in all 21 counties in the state, as legislated under Governor Christie Todd Whitman in 1998. Allen has performed hundreds of forensic nursing exams, testified in court as an expert, and has provided training for thousands of forensic nurses, law enforcement officers, and sexual violence advocates. As a former president of the International Association of Forensic Nurses, she has given lectures on forensic nursing and related topics to audiences all over the world.
Allen retired from the Monmouth County Prosecutor's Office on June 30, 2021 after dedicating 25 years of service to the victims and survivors of Monmouth County. She continues to provide service through education as an adjunct faculty member at Monmouth University, and through consultation and training for the nursing, law enforcement and legal communities.