Nancy Uddin, Ph.D., associate professor and chair of the Department of Accounting, was recently named a 2023 Exceptional Educator at the New Jersey Society of Certified Public Accountants (NJCPA) Ovation Awards.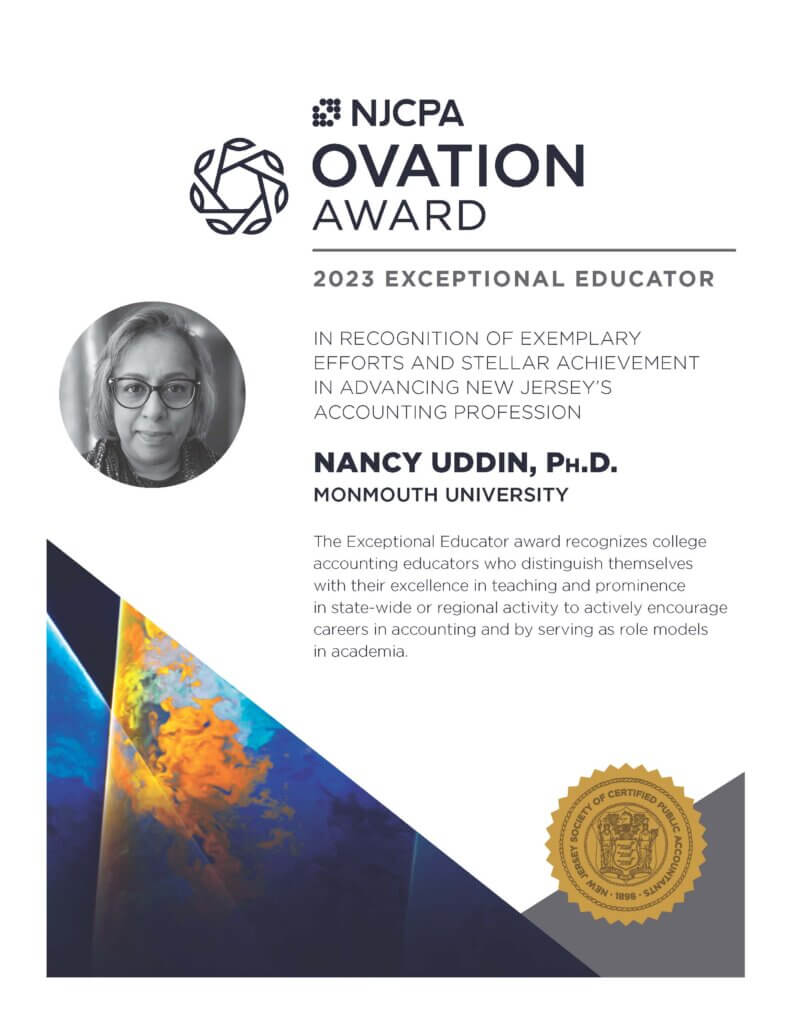 Uddin was nominated by her former student Keri Giacomelli '15 '16MBA, senior accountant at WilkinGuttenplan. The winners were announced during a live webinar and later shared on the NJCPA website.
"As educators, we aren't just imparting knowledge; we're shaping careers and preparing individuals for the real world of accounting. This award is a testament to the enduring impact we make in the lives of our students, and the true measure of our success is the achievements they attain in their professional journeys," Uddin said.
The annual Ovation Awards recognize the multitude of ways that individuals contribute significant time, energy, and intellect to developing the profession and fostering its success. The awards also celebrate the high achievers who are emerging leaders, innovators, champions of diversity, educators, volunteers, notable women, and other individuals who have made a substantial impact in accounting.
The Exceptional Educator category acknowledges college accounting educators who distinguish themselves with their excellence in teaching and prominence in state-wide or regional activity to actively encourage careers in accounting and by serving as role models in academia.
Uddin was specifically recognized for her dedication to the profession and education, with the NJCPA saying, "Nancy's service to the accounting profession is integral to the industry as a whole, both in and outside the classroom. She is a dedicated educator, providing real-world scenarios to her students, such as audit simulations, and teaches the theory behind accounting practices."
The NJCPA supports over 13,000 members and serves the needs of CPAs, accounting professionals, and students in public practice, business and industry, government, and education.