Priscilla Gac-Artigas, Ph.D. professor of Spanish and Latin American Literature in the Department of World Languages and Cultures, participated in the IV International Poetry Festival in Turrialba, Costa Rica, from Aug. 10-13.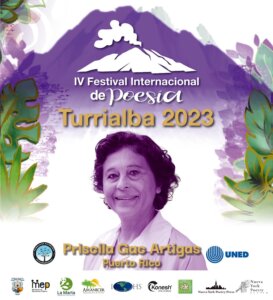 She was invited by the organizers in recognition of her background in Latin American and Latinx poetry both as a translator and as a literary critic. As part of the events, she, along with national and international guest poets participating in the festival, were received by the mayor of Turrialba during a special session of the municipal council and presented with a certificate as a "distinguished visitor" of the city.
During the week, she participated in poetry readings along with her husband, Chilean poet Gustavo Gac-Artigas, at the Biblioteca Nacional in San José, at La Marta National Reserve, Parque Recreativo Jorge Debravo, Plaza del Sol Gallery (along with an exhibit of renown Costa Rican painters Fernando Carballo and Osvaldo Sequeira), and at Colegio Técnico Profesional La Suiza and other higher education institutions. In addition, as a full member of the Academia Norteamericana de la Lengua Española (North American Academy of the Spanish Language, ANLE), she was received by the director of the Academia Costarricense de la Lengua – ACL (Costa Rican Academy of the Spanish Language), Víctor Manuel Sánchez Corrales, Ph.D., professor at the University of Costa Rica, and several other full members of the Academy, also poets, to commemorate the 100th anniversary of the ACL and the 50th anniversary of the ANLE with a poetry reading.
Gac-Artigas said that participating in the different poetry readings and other events organized allowed her to get to know poets from new generations of the Turrialba and San José literary landscapes and from other Spanish-speaking countries, such as Alfredo Pérez Alencart (Perú/Salamanca), Luis Alberto Ambroggio (Argentina), Miguel Falquez Certain (Colombia), and Julieta Dobles, Mia Gallegos, Leda García and many others from Costa Rica.
Gac-Artigas is a Fulbright Scholar and a correspondent member of the Royal Spanish Academy (RAE).