Douglas Stives, MBA, CPA, specialist professor in the Accounting Department in the Leon Hess Business School, was honored as an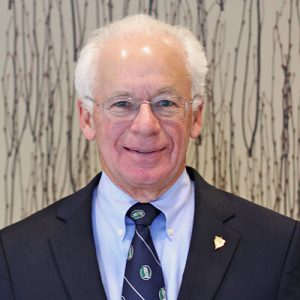 "Exceptional Educator" with an Ovation Award, which was announced by the New Jersey Society of CPAs (NJCPA) on June 18.
"Being honored by the NJ Society of CPAs is special since I devoted many of my years as a CPA to the state society, including my year as president," Stives said.
Stives was nominated by Monmouth accounting alumna Keri Giacomelli '15 '16 MBA, CPA. Giacomelli is currently an audit supervisor at WilkinGuttenplan in East Brunswick, NJ.
"Professor Stives is that one professor that you will never forget. He teaches with real-world experience and shows how, contrary to popular belief, accounting is actually fun," Giacomelli said. "As I entered the accounting profession with enthusiasm and drive to do more than just crunch numbers, I understood what Professor Stives' goal was in his classroom. He teaches the whole picture of accounting and the importance of being well-rounded, and I couldn't have picked a better nominee for the Ovation Award."
With the award, Stives was recognized by peers, colleagues, members of the community and the NJCPA for his significant contributions in advancing the accounting profession. NJCPA Ovation Awards were distributed across six categories: Diversity, Equity & Inclusion; Exceptional Educators; Emerging Leaders; Impact; Innovation; and Women to Watch.
"In the wake of the COVID-19 pandemic, it's a great time to acknowledge those individuals who went above and beyond during this past year. The accounting profession is on the cusp of so many changes that it's important to thank those who are leading the charge," said Ralph Albert Thomas, CPA (DC), CEO and executive director at the NJCPA.
The selected winners presented leading-edge ideas at their jobs, with the use of technology or in assisting clients/customers; made an impact in their communities; improved and enhanced the well-being of their employees or staff; exhibited leadership with the next generation of CPAs; made their mark in classrooms; promoted an open and diverse accounting profession; or were honored for a lifetime of dedication.