Monmouth's music industry students traveled to Nashville last month to participate in the annual Music Business Association Conference. Music industry adjunct professor and Music Business Association President James Donio coordinated with Joe Rapolla, chair of the Music and Theatre Department and director of the music industry program, to help Monmouth students attend this event. This is the fifth year that students attended the conference and the first time that any University student presented at the professional industry event.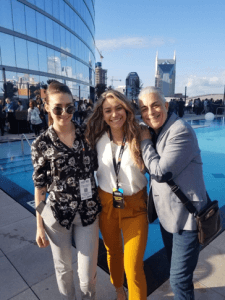 Since its inception, the Music Business Association has been an important link between all aspects of the music industry, including major and independent labels, technology and agency giants, management and marketing companies, and major artists. At the conference, students sat in on panels and presentations by senior music executives, saw demonstrations of new technology, networked with industry professionals, attended events with major artists like Peter Frampton and Darius Rucker, and interviewed for jobs and internships with top music and media companies.
"The fact that Monmouth students are able to attend this professional industry event and have such a high profile is immensely valuable to them, the program, and the University," said Rapolla. "Students can immerse themselves in the current issues and connect with the folks driving the industry."
At the conference, Rapolla moderated a panel with executives from Warner Bros. Records and Sony Music Entertainment that discussed what the music industry is looking for in recent graduates.
Monmouth students Mani Kissling and Brianna Roberts participated in a panel about innovative careers that included Deja Perez from the "Angie Ange Morning Show"/WKYS 93.9 FM and was moderated by adjunct professor Rashida Cruz.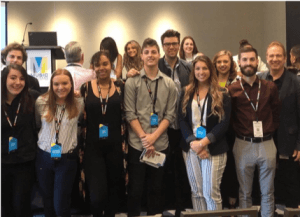 Students also attended keynotes, presentations, and interviews, as well as demonstrations showcasing new audio and visual technologies in music, including virtual reality. Select students also attended an awards ceremony where top artists such as Bebe Rexha, Kane Brown, and Peter Frampton were given awards for their contributions to the music industry and the community.
Through the Music Business Association Conference, students and industry professionals are given the opportunity to network and make connections with senior level executives and their peers. Few other conferences allow for the same type of hands-on learning, interaction, and direct knowledge from the leading labels, companies, and executives in the music industry field.
"Because of Music Biz, I met dozens of industry executives," said attendee Gabi Soroka '19. "Having those connections is invaluable as a recent graduate."