Monmouth University senior Dharm Patel was awarded first place for the best undergraduate student research presentation in the cell and molecular category at the 2011 Sigma Xi Annual Meeting and International Conference held November 10–13, 2011, in Raleigh, North Carolina.
Photo from left: Deputy Director of NOAA Kathryn Sullivan, Dharm Patel, and President-Elect of Sigma Xi Michael Crosby
In the cell and molecular category were 58 presentations from students at institutions including Clemson, Duke, Harvard, UNC, North Carolina State University, The Johns Hopkins University, and The University of California-San Diego. 
Dharm's poster titled "Effects of Lipopolysaccharide-induced Inflammation on Hypoxia-inducible factor-1 Expression in the Rat Testis" described his ongoing research conducted with Dr. Michael Palladino, dean of the School of Science at Monmouth University. Dharm's research is designed to investigate how bacterial infections of the male reproductive tract affect genes and proteins produced by reproductive organs to cause infection and inflammation. Dharm is an honors student, doing this research with Dr. Palladino as his honors thesis project. Dharm's participation in the MU Summer Research Program was made possible by a grant from Bristol-Myers Squibb.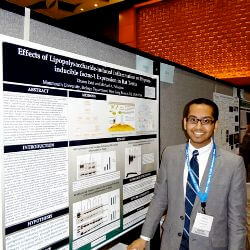 Dharm Patel with poster presentation
Sigma Xi, The Scientific Honor Society, is an international, multidisciplinary research society whose programs and activities promote the health of the scientific enterprise and honor scientific achievement. There are nearly 60,000 Sigma Xi members in more than 100 countries around the world. Membership in Sigma Xi is by invitation and is conferred upon those who have demonstrated noteworthy achievements in research. Over the course of the Society's distinguished history, more than 200 members have won the Nobel Prize and many more have earned election to the National Academies of Sciences and Engineering. Dean Palladino is a member of Sigma Xi.