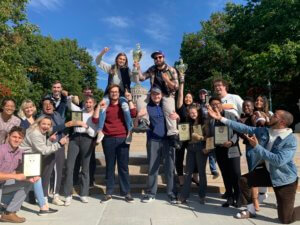 Monmouth University's debate team wrapped up the 2019-2020 season ranked No. 21 overall in the Cross Examination Debate Association (CEDA) national rankings. This is the highest ranking the debate team has achieved, finishing ahead of Georgetown University, Cornell University, Baylor University, the University of Pittsburgh, and others.
As of last year, Monmouth's highest CEDA national ranking was No. 56.
The debate team won two tournament championships this year at the University of Rochester and Rutgers University. They also competed in four other tournaments including the national championship in Las Vegas.
"My favorite moment this year was winning the debate tournament at Rutgers," said Mia Ardovini, a junior studying political science. "Being ranked 21st in the nation is amazing. The debate team as a whole, our captains, and Dr. Patten have worked rigorously so that we can show other schools that we are competition. It's really nice to see that all of our hard work has paid off."
Joseph Patten, Ph.D., associate professor of political science and faculty advisor to the debate team, said, "What makes me most proud is that we had approximately 40 different Monmouth students compete in at least one debate tournament this year. The best thing is watching how competing in debate tournaments helps our students gain skills, resiliency, and confidence to apply and gain acceptance into top law schools and graduate programs."
Michelle Grushko '15, a former debate team captain who went on to graduate school at Columbia University and now works at Twitter, told Patten, "Debate is life…everything else is just prep time."
CEDA ranks debate teams based on the number of preliminary and playoff rounds won in each tournament. A full list of rankings is available online.