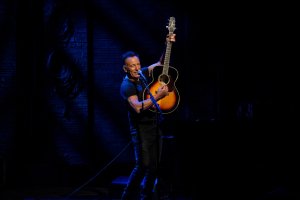 Featuring special appearance by director Thom Zimny; 
Free and open to the public, registration required
WEST LONG BRANCH, N.J. (Jan. 2, 2019) – Monmouth University and the Bruce Springsteen Archives and Center for American Music will hold a free, public screening of the Netflix original special "Springsteen on Broadway" on Sunday, Jan. 13 at 4 p.m. on the cinema screen in Pollak Theatre.
The film screening will feature an in-person extended introduction by Emmy Award-winner Thom Zimny, director and producer of the film.  The two-and-a-half-hour "Springsteen on Broadway" documents The Boss' one-man autobiographical show, written and performed by Springsteen, following its sold-out Broadway run that concluded on Dec. 15.
"Through this film, we are able to bring Bruce's solo acoustic performance on Broadway to a wider Jersey Shore-area audience; an audience with a deep connection to Bruce's music and his story," said Eileen Chapman, director of The Bruce Springsteen Archives and Center for American Music at Monmouth University.  "We are thrilled to be hosting this screening on our campus, only a few short miles away from Asbury Park—one of the most significant cities in Bruce's career."
Throughout the show, the 20-time Grammy Award-winner injects heartfelt anecdotes and personal stories into an intimate musical performance. Based on his best-selling autobiography "Born to Run," the performance also includes a special appearance by Patti Scialfa, Springsteen's wife and bandmate. The Broadway show enjoyed 236 sold-out performances and was extended three times after its initial eight-week residency.
"Springsteen on Broadway" was filmed live at the Walter Kerr Theatre in New York and launched globally on Netflix on Dec. 16. In addition to Zimny, the film is produced by the same team that produced the Broadway show, including Springsteen manager Jon Landau, tour director George Travis, and Landau Management partner Barbara Carr.
Ticket reservations for the screening are available online and are required for entry.  Limit of two reservations per guest. Admission of registered guests will begin at 3 p.m. on a first-come, first-served basis; seats are not guaranteed.  Non-perishable food items will be accepted in support of The Nest, Monmouth University's food pantry for students in need.  Fulfill (formerly the FoodBank of Monmouth and Ocean Counties) will also be accepting monetary donations.