WEST LONG BRANCH, N.J. — Monmouth University will present a special preview of the 2018 GRAMMY Awards with GRAMMY Museum Founding Executive Director Robert Santelli '73 on Wednesday, January 24, 2018. The event is free and open to the public, though registration is required.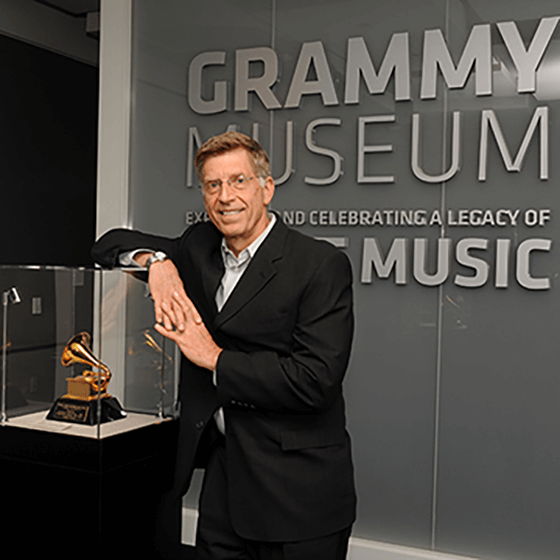 "A GRAMMY Preview with Bob Santelli" will be held in Pollak Theatre on the Monmouth University campus and will begin at 7:30 p.m. The event is part of the University Lecture Series and is presented by the Wayne D. McMurray School of Humanities and Social Sciences and the Bruce Springsteen Archives and Center for American Music.
Santelli will give the audience a backstage look at the GRAMMY Awards presentation, the most-watched music television program in the world. Santelli will also show rare performance clips and will detail the process by which artists are nominated for a GRAMMY. He will also share "Great GRAMMY Moments" stories and will give attendees all the background information they may need prior to the telecast of the 60th GRAMMY Awards on January 28 on CBS.
Santelli will be introduced by Kenneth Womack, dean of the Wayne D. McMurray School of Humanities and Social Sciences, who will also moderate a question and answer session.
Reservations will be taken on a first-come, first served basis at www.monmouth.edu/Monmouth-lecture-series. Parking is available in Lots 13, 14 and 15.
Monmouth University is one of only 14 university affiliates of the GRAMMY Museum and is one of only a few schools in the country to offer a concentration in music industry. Blue Hawk Records is the university's student-run record label.
About Bob Santelli
Robert Santelli '73, the founding executive director of the Los Angeles-based GRAMMY Museum, is a noted blues and rock historian, author, educator and founding director of the Rock and Roll Hall of Fame and Museum. Santelli has written widely on Jersey Shore music, its wider cultural implications and speaks with passion about his journey from youthful music fan to internationally distinguished expert, while acknowledging the role Monmouth University has played in his personal and professional development.
Santelli served as the music critic for the Asbury Park Press from 1974 to 1988. He has taught at both Monmouth and Rutgers universities and is widely regarded as a principal spokesperson for the music of the 20th century.
He was an active supporter and key figure in the acquisition of the Bruce Springsteen Special Collection which, last year, became the Bruce Springsteen Archives and Center for American Music at Monmouth University, a collaboration that designated the university as the official archival repository for Springsteen's written works, photographs, periodicals and artifacts.