Jeana M. Piscatelli '01 '02M is university's first woman elected board chair; Miles J. Austin III '19, Tasha A. Youngblood Brown '97 '03M, Jeremy Grunin, and James S. Vaccaro III elected to Board of Trustees
WEST LONG BRANCH, N.J. – At its June 18 meeting, the Monmouth University Board of Trustees elected its new slate of officers and four members with terms beginning July 1. Jeana M. Piscatelli '01 '02M was elected chair of the board, the first woman in the university's 87-year history to hold the position. John A. Brockriede Jr. '07 '10M and Leslie N. Hitchner will serve as vice chairs, Christopher D. Maher as treasurer, and John C. Conover III as secretary.
Piscatelli, of Holmdel, New Jersey, is senior vice president, director of treasury management at OceanFirst Bank. She has been a member of the university's board since 2010. At OceanFirst, she is responsible for implementation of overall strategy and management of corporate treasury. Before that, Piscatelli held various roles with J.P. Morgan and Wells Fargo in New York. An alumna of the university's business school, Piscatelli previously served as vice chair and will succeed Michael A. Plodwick '82 as chair.​
"It is an honor to be named chair of the board at my alma mater," Piscatelli said. "Monmouth is home to me, and I am excited to work alongside President Leahy and fellow board members to build upon our strong foundation as one of the region's premier private universities."
Miles J. Austin III '19, Tasha A. Youngblood Brown '97 '03M, Jeremy Grunin, and James S. Vaccaro III will join the board as its newest members.
"I am pleased to welcome these outstanding trustees to our board and extend my deepest gratitude to our trustees who have taken on leadership roles," said Monmouth University President Patrick F. Leahy. "I am so proud to serve with the first female board chair in our 87-year history, in addition to this talented group of distinguished alumni and business and civic leaders. The depth and breadth of their experiences and professional accomplishments will undoubtedly serve the university well in the years to come. I also want to thank our outgoing chair, Mike Plodwick, and our outgoing secretary, Carol Stillwell, for their leadership, guidance, and dedicated service to Monmouth."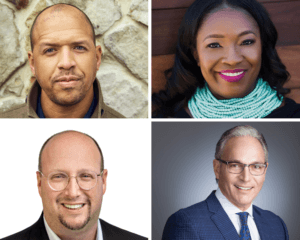 Miles J. Austin III '19
Austin, of Rumson, New Jersey, is a former offensive quality control coach for the San Francisco 49ers and former wide receiver who played professional football for 10 seasons, spending the majority of his career with the Dallas Cowboys. He is founder of the Austin Family Foundation, a nonprofit organization whose mission is to support and promote youth programming focused on character development and community involvement in lower income areas. He holds a degree in political science from Monmouth, where he was a standout wide receiver for the football team from 2002-2005. Austin's jersey was retired in 2014 and he was inducted into the Monmouth University Athletics Hall of Fame in 2016.
Tasha A. Youngblood Brown '97 '03M
A managing director in the Government and Public Sector practice of Ernst & Young, Youngblood Brown of Long Branch, New Jersey, helps local government, higher education institutions, and K-12 school districts transform their environments and optimize operations to achieve better outcomes across their communities. Youngblood Brown has 24 years of expertise in the areas of auditing and accounting, information technology, risk management, and business strategy across different industries including the governmental, health care, life sciences, technology and education sectors. A community leader, she also serves as the vice president of the Long Branch Board of Education and as board treasurer of the Eastern Minority Supplier Development Council (EMSDC), working with minority-owned, women-owned businesses and corporations as an advocate for supplier diversity. Youngblood Brown holds a bachelor's degree in political science and a master's degree in business from Monmouth University, as well as a bachelor's degree in industrial engineering from North Carolina State University. 
Jeremy Grunin
Grunin, of Toms River, New Jersey, is president of the Grunin Foundation, a grant-making organization focused on economic growth at the central Jersey Shore. Grunin is also a partner of Grunin Holdings, LLC, a New Jersey partnership specializing in the development and management of commercial real estate, as well as investing in third party commercial ventures. An active philanthropic and community leader, Grunin serves as board chair of Fulfill (formerly the Foodbank of Monmouth and Ocean Counties) and as an executive board member of the Count Basie Center for the Arts. He is also a member of local nonprofit boards including the YMCA of Greater Monmouth County, the Jersey Shore Medical Center Foundation, the Meridian Health Foundation, and the New Jersey Arts Education Partnership, among others. 
James S. Vaccaro III
Vaccaro, of West Allenhurst, New Jersey, is chairman, president, and CEO of Manasquan Bank, which operates 15 offices and branches located in Middlesex, Monmouth, and Ocean Counties in New Jersey. Before joining Manasquan Bank, Vaccaro was executive vice president and chief operating officer for Springpoint Senior Living, a nonprofit senior housing and health care provider. Vaccaro has over 35 years of experience in the banking industry, including serving as chairman, president, and CEO of Central Jersey Bancorp, and in various capacities with Central Jersey Bank and Trust Company, including executive vice president, treasurer, CFO and member of the board of directors. A civic and philanthropic leader, Vaccaro is a board member of RWJBarnabas Health and Monmouth Medical Center. He is former chairman of the board for the Visiting Nurses Association of Central New Jersey, sits on the advisory board of Interfaith Neighbors, the leadership council of Prevention First, and on the board of the New Jersey Bankers Association. In recognition of his contributions to the business community through his corporate and civic leadership, Vaccaro received the Monmouth University Distinguished Business Leader Award in 2013. He holds a bachelor's degree in economics from Ursinus College and a certification from Harvard Business School's program for management development.
In addition to the board officer appointments and newly elected trustees, several members completed their terms. Marianne C. Hesse was named a Life Trustee and former board chair Henry D. Mercer III '87 '17HN was named Trustee Emeritus. Frank Bonello, Fred Kaeli '61, and Carol Stillwell were elected to the Society of Trustees.
The Monmouth University Board of Trustees is composed of 32 regular members who are elected to four-year terms and are divided into four class years. The board operates within the conventional framework of higher education academic governance for independent institutions. Board members are concerned with higher education issues and share a specific and genuine involvement with Monmouth University.