Monmouth University recently announced the winners of the Distinguished Teaching Award and the Eugene Simko Faculty Leadership Award. Due to current restrictions on large gatherings, the recipients were announced at the full-time faculty meeting held remotely on Wednesday, April 29.
2020 Distinguished Teaching Award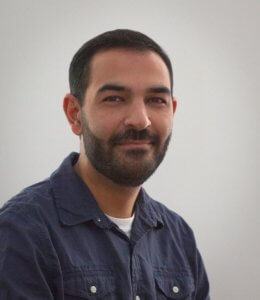 Pedram P. Daneshgar, Ph.D., associate professor in the Department of Biology, is this year's Distinguished Teaching Award winner. Daneshgar, who has taught at the university for a decade, is a plant ecologist specializing in terrestrial ecology, invasive plant species, ecosystem restoration, and botany.
According to Interim Provost and Senior Vice President for Academic Affairs Rekha Datta, Ph.D., Daneshgar is "extraordinarily dedicated to students of Monmouth University, and brings a wide-eyed passion and excitement to the study of plants that excites students to learn more and care more about the environment."
Daneshgar teaches courses in the marine and environmental biology and policy program, including botany, ecology, and global sustainability, as well as a research course on tropical island ecology in the Bahamas. He also actively engages students in research projects and hands-on education, which has led to national and regional student presentations and co-authorship of peer-reviewed papers.
Before coming to the university, Daneshgar received a Ph.D. in forest resources and conservation from the University of Florida, a master's degree in biology from St. Joseph's University, and a bachelor's degree in biological sciences from the University of Delaware.
The Distinguished Teaching Award, established in 1975, honors excellence in teaching and is awarded annually to a full-time specialist, lecturer, tenure-track or tenured faculty member who has completed five years of service at the university. Honorees are chosen by a committee of faculty, administrators, and students.
2020 Eugene Simko Faculty Leadership Award
James P. Mack, Ed.D., professor in the Department of Biology and a 1962 alumnus of the university, was awarded this year's Eugene Simko Faculty Leadership Award. A 47-year faculty member, Mack is a past recipient of the Distinguished Teaching Award and the Donald Warncke Award. He has served on various committees and boards throughout his tenure, including the Faculty Council and the alumni board, and has led initiatives such as the Monmouth Early Warning System (MEWS), the Pre-Professional Health Advisory Committee, and the Monmouth University Sports Hall of Fame.
According to Professor Datta V. Naik, Ph.D., in addition to Mack's leadership activities, his passion for teaching has led to unique research opportunities students. "Dr. Mack is a productive scholar who involves his students in the research on combating multidrug-resistant bacteria—a global health problem—using essential oils and methylglyoxal," Naik said.  "His students have presented their research results many times at national conferences and published their results in peer-reviewed journals."
Mack received his bachelor's degree from Monmouth University, his master's from William Paterson College, and his Ed.D. from Columbia University Teachers College.
The Faculty Council established the Eugene Simko Faculty Leadership Award to honor the late Gene Simko, former faculty council chair and associate professor in the Department of Management and Decision Sciences, and to recognize individuals who best capture Gene's substantial, diverse, and enduring impact on Monmouth University. The first Eugene Simko award was given in 2019.