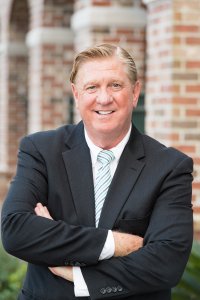 WEST LONG BRANCH, N.J.— Monmouth University will honor Denis J. Gallagher, class of 1976, with its 2020 Distinguished Business Leaders Award at an annual dinner on Thursday, Feb. 27, in Woodrow Wilson Hall on the university's campus.
Gallagher, an entrepreneur with more than 40 years of experience in the passenger transportation industry, was founder, chairman, and chief executive officer of Student Transportation Inc. (STI), a leading school transportation company in North America. At STI, he directed the strategic operations of the NASDAQ- and Toronto Stock Exchange (TSX)-listed company while leading and developing investor activities through capital raises and explosive growth.
"We are delighted to be honoring Denis Gallagher for this prestigious award," said Donald Moliver, dean of the Monmouth University Leon Hess Business School. "He is a visionary leader who has moved the frontiers of his various business interests and created environments in which employees are valued assets and not costs to be minimized. We applaud his leadership."
Gallagher currently serves on several private company boards and is a highly sought-after business consultant. In addition to his roles in the transportation sector, he has built enterprises in the media entertainment industry and is the founder and chairman of Charliewood Entertainment, LLC, a production and investment company based in Charleston, South Carolina. He is also chairman and principal owner of Front and Center Entertainment, which produces the highly acclaimed television shows "Front and Center" and "Speakeasy" seen on cable and public television across the U.S. Gallagher is also chairman and lead investor in Novo Media Group, a Los Angeles-based television and film development and production company.
Gallagher attended then Monmouth College on a Trustee Athletic Scholarship and was a member of the men's basketball team. After graduating with a bachelor's degree in business administration, he became an assistant coach for then coaches Bill Boylan and Ron Kornegay. He was a past member of the Board of Visitors, and in 1987, he was the youngest member ever elected to the Board of Trustees. In 1992, he received the Distinguished Alumni Award, and in 2019, he rejoined the Monmouth University Board of Trustees.
Gallagher currently resides in Charleston, South Carolina with his wife, Mary.
For additional information about the awards dinner, contact Monmouth University's Office of Conference Services and Special Events at 732-923-4713 or specialevents@monmouth.edu.
About the Award:
The Distinguished Business Leaders Award was established in 1983 as part of Monmouth University's 50th anniversary celebration to pay tribute to the important contributions of the business community in the development of the school during its first half-century. For more than three decades, the award has honored individuals, or groups of individuals, who have made distinctive contributions to the tri-state business community through outstanding corporate and civic leadership. Monmouth University's Business Council is proud to join the corporate community in celebrating the talents and contributions of Distinguished Business Leaders and trust that their example will serve as an inspiration to future generations of business leaders.