Why do dead fish float? Does the Navesink River have a pollution problem? And what's that smell coming off the water with the breeze? Rumson seventh graders came up with a long list of questions during a recent field trip to the Navesink, but Jason Adolf's, Ph.D., Principles of Marine Biology (BY 341) students had the answers.
The Monmouth University juniors and seniors delivered lessons to six of science teacher Jenn Crow's seventh grade classes at the Forrestdale School on Nov. 27. Adolf, an endowed associate professor of marine science, said part of his course assignment was for his students to answer as many of the questions as possible while giving presentations on topics they're studying at Monmouth. They included discussions on the impacts of plastics in marine environments, bioluminescence, biofluorescence, marine food chains and more.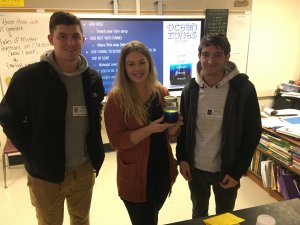 The Monmouth students came up with some hands-on exercises to make the lessons engaging for the young scientists. In a lesson on stratification in the ocean, students mimicked the layering that naturally occurs by filling jars with household liquids like vegetable oils, honey and water.
"A lot of our marine and environmental biology and policy majors go into teaching, so this was directly applicable to what they're doing," Adolf said. "I also want students to learn not only how to communicate science to a K-12 audience, but to understand that's part of science, no matter what level you're working at."
The Monmouth University School of Science and Urban Coast Institute have partnered with Rumson on several educational initiatives, most notably a joint plan to develop the Monmouth Marine and Environmental Field Station on municipal property along the Navesink River. Monmouth faculty and students are also working with the borough to transform a pond on the Forrestdale property into an outdoor educational space.