WEST LONG BRANCH, N.J. — Monmouth University senior Sophia Parola is the newest VJ on MTVU, MTV's companion cable television channel programmed for college audiences. The channel is available on more than 750 college campuses and through cable distributors in 700 college communities nationwide.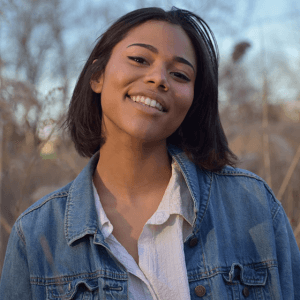 In addition to her full-time load as a communications student at Monmouth, Parola continues to take classes on a part-time basis at Brookdale Community College, where she hosts programs on Brookdale's television station and is "extremely involved and dedicated to the theatre program." She is billed as a Brookdale student on the air.
The 22-year-old from Manalapan, N.J., said she was excited to audition, but was nervous because she was running late, arriving at the audition directly from a class at Monmouth.
"They didn't have a sheet for me to fill out," she said, "and when they finally found one, I was the last person to audition. I think being last may have made me stand out, but I was also extremely comfortable by then and I just acted like myself."
As an on-air host, Parola will be introducing music videos from emerging artists, news segments, and student life features and initiatives. She will also have the freedom to pitch her own ideas for video segments, something that she said she is excited about.
While she enjoys broadcasting, she is passionate about acting. "After graduating from Monmouth [in May 2018]," she said, "I hope to continue hosting and working in the television business, but my goal is to become a professional working actress.
"I love hosting, but I think what I love about it the most is taking what you need to say and making it your own, bringing your personality to the screen and making people feel comfortable and relatable. And that connects so much to acting."
Parola said that when it came to auditioning, she had "absolutely no hesitation" and calls the MTVU position "an amazing opportunity."