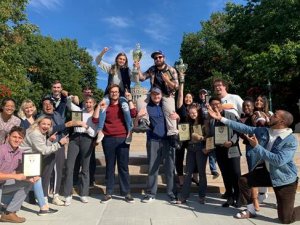 The Monmouth University Debate Team took home first and second place team awards at the Brad Smith Invitational Debate Tournament hosted by the University of Rochester from Oct. 11 to 13. The student team of Payton Collander and Anthony Cendagorta took first place, while students Mia Ardovini-Booker and Billy Siefert took second place. Both teams remained undefeated heading into the playoff rounds.
According to Joe Patten, Ph.D., associate professor of political science and advisor to the debate team, this is the first time Monmouth students took home both first and second place team awards. He also added that a record number of Monmouth teams made it into the playoffs at the tournament.
Monmouth also received a number of individual speaking awards, including:
Payton Collander, 2nd place
Liam Crowley, 4th place
Chyna Walker, 6th place
Anthony Cendagorta, 9th place
Billy Siefert, 10th place
According to Patten, each year, a topic is picked to be debated at every tournament.  This year's topic is U.S. foreign policy with China and Russia, particularly as it relates to the weaponization of space (also referred to as the space race).
Debate teams from six universities took part in the tournament, including New York University, the U.S. Military Academy, the University of Rochester, New School, Binghamton University, and Monmouth University. Monmouth had a total of eight teams compete at the tournament, with six teams making it to the playoff rounds with winning records.
"The most powerful thing about working with the debate team over the last 12 years is seeing their growth from one debate tournament to the next," said Patten. "Then seeing the success they have in law school or graduate school and in their chosen careers in the next chapters of their lives—that is deeply rewarding."
The debate team will compete at Rutgers University next month on the weekend of Nov. 8. The Monmouth team also continues to coach the Asbury Park High School debate team on Friday afternoons, leading up to four tournaments per year, including one at Harvard in February. The mentoring partnership with Asbury Park students is now in its 10th year.
For more information about the debate team, email jpatten@monmouth.edu.