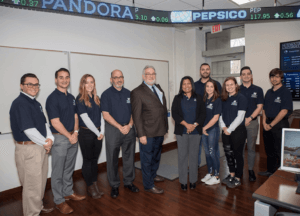 Joseph Breen '19, a graduate of the Monmouth University Leon Hess Business School and the Honors School, was recently named a winner of the 2019 Elijah Watt Sells Award sponsored by the American Institute of CPAs (AICPA). The award, given to just 133 candidates out of the nearly 75,000 who sat for the CPA exam in 2019, recognized those who obtained a cumulative average score above 95.5 across all four sections of the Uniform CPA Examination, passed all four sections on their first attempt, and completed testing in 2019, according to AICPA.
Breen, who is currently employed with WithumSmith+Brown, PC in Red Bank, New Jersey, was an exceptional student while at Monmouth, according to P. Jeffrey Christakos, chair of the accounting department. "All of our professors agreed that Joe was one of the best students they had in their classes over the years," Christakos said.  "I had the honor of working with Joe on his honors thesis and in our Financial Literacy Program. Joe had a perfect average at Monmouth. He received multiple awards for his accomplishments."
Breen, an active student while at the university, was a member of the Beta Gamma Sigma Business Honor Society, a lead student instructor with the Monmouth University Financial Literacy Program, and a two-time New Jersey Society of Certified Public Accountants scholarship winner. Breen's honors thesis, "Instructor Effectiveness in Financial Literacy Education," studied the effectiveness of the university's financial literacy program.
In an AICPA press release, Mike Decker, vice president of examinations, said, "On behalf of the AICPA, I'd like to commend the 2019 Sells Award winners for their impressive accomplishment. The CPA Exam is a rigorous assessment and these candidates should be proud of their exceptional performance."
The Elijah Watt Sells Award program was established by the AICPA in 1923 to recognize outstanding performance on the CPA exam. Sells, one of the first CPAs in the U.S., was active in the establishment of the AICPA and played a key role advancing professional education within the profession.
"We are all very proud of Joe and his accomplishments," Christakos added. "It was an honor to work with him in various capacities over his years at Monmouth."