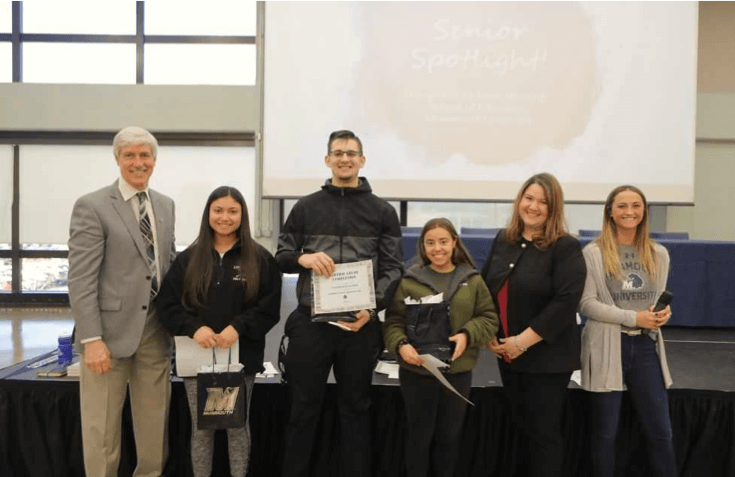 The Monmouth Future Scholars program, an academic mentoring partnership between Monmouth University's School of Education and the Long Branch Public School District, celebrated its first class of graduating seniors this spring.  Two of the Long Branch seniors, Emily Martinez and Maria Monzon, will be attending Monmouth University in the fall.
Future Scholars, a pre-college bridge program, is focused on increasing the number of low-income, first-generation students graduating from high school and accessing higher education. It targets students in 6th through 12th grade in Long Branch schools, and provides experiences that encourage high school completion and college attendance, particularly at Monmouth University.  The program started in 2012, when the current graduating seniors were in 6th grade.
Future Scholars students are invited to cultural and educational events at the University, and receive advising from graduate students in the school counseling program as well as assistance from faculty to help with college applications and scholarships.
The program's co-coordinators, Alyson Pompeo-Fargnoli, Ph.D., and Professor Cynthia O'Connell, work with University graduate students in the school counseling program in their internship experience to provide school counseling and support services in small groups and individual meetings.
Walter Greason, Ph.D., chair of the Department of Educational Counseling and Leadership, said, "In addition to the benefits for the Long Branch students, this experience serves as a transformative learning opportunity for Monmouth University's students as they work in the field and advocate for a diverse population of first-generation, low-income students."
Selection criteria and additional information about the Future Scholars program is available online.