Monmouth University has entered into a memorandum of understanding with Morgan State University (MSU), a historically black college/university.  One aspect of this agreement is to develop a career advancement program for aspiring faculty.  The Mentor Scholars program allows doctoral candidates at MSU to apply to spend at least one semester at Monmouth to teach or co-teach and participate in professional development opportunities while completing their dissertation.
Alexandra Burrel and Tracy Cudjoe are on campus this fall as our first Mentor Scholars.  If you see them on campus, please welcome them to Monmouth.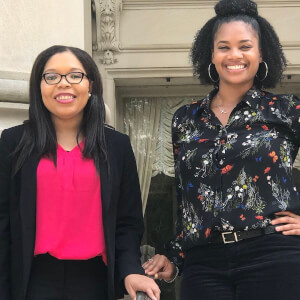 Alexandra Burrel is a doctoral candidate at Morgan State University in higher education administration.  She received both her bachelor's in sociology and master's in counselor education at Western Michigan University.  Since that time, she has served as an assistant dean for enrollment and student affairs at Howard University, an international student coordinator at Morgan State University, and an academic advising specialist in Michigan State University's College of Nursing.  Her dissertation topic is: "Exploring the Experiences of Minority Female Students at a Predominantly White Institution and Their Perceptions of Campus Climate."  Monmouth University's School of Education is hosting Alexandra.
Tracy Cudjoe is a social work doctoral candidate at Morgan State University.  She received her master's in social work from Indiana University with a concentration in mental health and addictions.  She has served as a graduate research assistant for several years and has published and presented a host of scholarly works.  Her dissertation topic is: "Examining Barriers and Motivators to Treatment Utilization Among Substance Using Women." Monmouth University's School of Social Work is hosting Tracy.