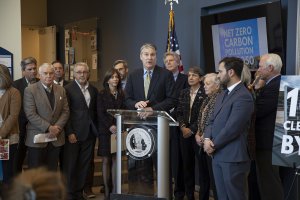 Congressman Frank Pallone held a press conference at Monmouth University's Thomas Edison A. Edison Science Hall Atrium on Jan. 17 to discuss the framework of the CLEAN Future Act, a federal proposal to achieve a 100% clean economy by 2050. Pallone was joined at the podium by New Jersey First Lady Tammy Murphy, New Jersey Department of Environmental Protection Commissioner Catherine McCabe, and several other public officials and environmental advocates.
Monmouth University President Patrick Leahy and Urban Coast Institute Director Tony MacDonald delivered introductory remarks.
"I saw a t-shirt the other day that said, 'The greatest threat of global climate change is thinking that somebody else will do something about it,'" Leahy said. "That really struck me, and I'm really pleased to have everyone who is assembled here this morning, tackling this important issue not just for our country but for our planet."
The CLEAN Future Act outlines a sector-by-sector plan for America to reach net zero greenhouse gas emissions in 30 years. Among its components, the draft legislation calls for electricity suppliers to increase their supplies of clean energy beginning in 2020 and reach 100% green levels by 2050.
Pallone is the chair of the House of Representatives' Energy and Commerce Committee, which announced the legislative framework last week.
"I need to thank [Congressman Pallone] on behalf of the ocean because people are increasingly recognizing the climate-ocean nexus," MacDonald said. This is a real issue. Twenty-five percent of carbon that is emitted goes into the ocean. Ninety percent of the excess heat that comes from greenhouse gases goes into the ocean, and we can't handle much more of it."
Additional Links