$100 to enter raffle; winner will be announced April 5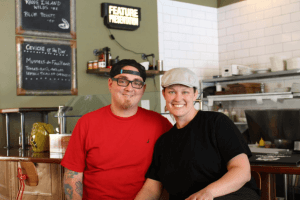 Enter for the chance for up to four guests to join celebrity chefs Jennifer Behm-Lazzarini, Season 2 winner of FOX's "MasterChef," and Julio Lazzarini from The Food Network's "Chopped," for a culinary event on April 25 at 6:30 p.m. at Monmouth University.  The raffle winner and guests will join University President Grey Dimenna and his wife, Nancy Kaplen, at their official residence, Doherty House, for a three-course meal with wine pairings.
Tickets to enter the gourmet dinner raffle are $100 each and only 100 tickets will be sold.  The winner will be announced on April 5. This candlelight dinner has a $500 value and the chefs will accommodate dietary restrictions.
All proceeds from the event will support the Marjorie K. Unterberg School of Nursing and Health Studies Scholarship Fund at Monmouth University. To purchase raffle tickets or to learn more about supporting Monmouth University students through scholarships, contact Danica Parker, clinical placement coordinator, School of Nursing and Health Studies at 732-923-4683 or SONHS@monmouth.edu.
Note: If gambling is a problem for you or someone in your family, Dial 1-800- GAMBLER. NJ LGCCC Identification # 539-5-28035 • RL # 19-7