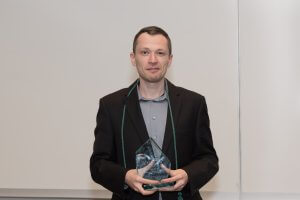 Mikhail M. Sher, Ph.D., assistant professor in the Department of Management and Decision Sciences in the Leon Hess Business School, was honored with a Bright Idea Award on Nov. 1 for a recent publication, "A Supply Chain Coordination Mechanism for Common Items Subject to Failure in the Electronics, Defense, and Medical Industries," which he co-authored.  The scholarly article was published in the International Journal of Production Economics.
The Bright Idea Awards are sponsored by the Stillman School of Business at Seton Hall University and recognize exceptional research from schools of business throughout New Jersey. Sher's publication was identified as one of the top 10 manuscripts out of 132 publications.
Sher received his Ph.D. from Drexel University. His main research interests are in the areas of inventory control and supply chain management with a focus on optimal order policies and supply chain coordination.