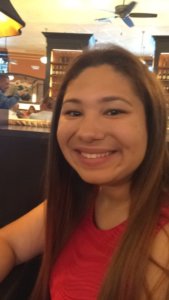 Described by SUNY Albany as "one of the top applicants," alumna Bianca Zazzarini-Leon '20 was admitted to the Spanish doctoral program at SUNY Albany with a full scholarship and was also offered a teaching assistant position at the school. Zazzarini-Leon, who graduated with dual bachelor's degrees in English and Spanish, was also accepted to Ph.D. programs offered at Florida International University and the Graduate Center, CUNY.
According to Priscilla Gac-Artigas, Ph.D., professor in the Department of World Languages and Cultures, Zazzarini-Leon embraced all the opportunities offered by Monmouth to give students a well-rounded liberal arts education.
Zazzarini-Leon participated in the university's one-semester study abroad program in Buenos Aires, Argentina, where she studied Latin American and Argentinean literature and was able to immerse herself in the culture of her father's country of origin while enhancing her Spanish language proficiency. She was also inducted into Sigma Tau Delta, an English honor society, as well as Sigma Delta Pi, a Spanish honor society, while at Monmouth.
Zazzarini-Leon cited close relationships with faculty members as memorable parts of her education at Monmouth, highlighting experiences such as "working with Professor Barrea-Marlys on an Argentine linguistics paper which I included as a writing sample in my application package, Professor Uhuru who helped me expand my academic writing in English and helped me in picking a graduate school, Professor Jackson in his critical theory class and writing about Frankenstein from a Marxist and feminist lens, and finally, Professor Gac-Artigas whose advanced Spanish writing class helped me to think more abstractly, connect the world with literature, and expand my writing in Spanish."
"The Department of World Languages and Cultures wishes Bianca continued success in her studies at the graduate level and looks forward to her contributions to the fields of Hispanic literature and linguistics," Gac-Artigas said.