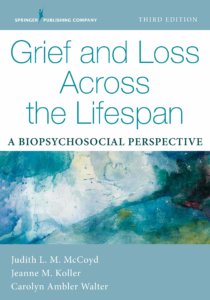 Jeanne Koller, Ph.D., LCSW, assistant professor in the School of Social Work, collaborated with lead author Judith L. M. McCoyd, Ph.D., LCSW, QCSW, and Carolyn Ambler Walter, Ph.D., LCSW, to write the third edition of Grief and Loss across the Lifespan: A Biopsychosocial Perspective.  The textbook, published by Springer on Jan. 4, provides a unique biopsychosocial perspective and developmental framework for understanding grieving patterns.
Organized by a lifespan trajectory, the text describes developmental aspects of grieving, linking theories to effective clinical work. Biopsychosocial developmental theories frame chapters that include recent research on how people of different ages respond to varied loss situations. Intervention strategies supported by practice experience and empirical evidence are included. The new edition illuminates special considerations in risk and resilience for each life phase, systematically addressing issues of oppression, marginalization, and health disparities.
The third edition also covers spiritual development for each life phase and restructures the adult chapters to reflect major changes in theories on expanded lifespans while adding to content on evolving living arrangements for aging individuals. Associate Professor Joelle Zabotka, Ph.D., LCSW, LCADC, and retired professor Carolyn Bradley, Ph.D., LCSW, LCADC, each provided a case study for the book.