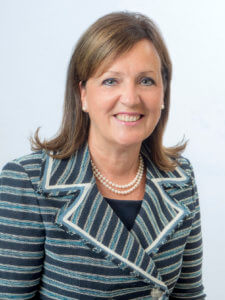 WEST LONG BRANCH, N.J.— Monmouth University has named Ann Marie P. Mauro, Ph.D., dean of the Marjorie K. Unterberg School of Nursing and Health Studies. Mauro comes to Monmouth from Rutgers University School of Nursing, where she served as founding associate dean, professor, and director for the Center for Educational Research and Innovation (CERI) since 2015. She will assume her new role on July 13, 2020.
A certified nurse educator and clinical nurse leader, Mauro brings expertise in advancing diversity initiatives, creative educational strategies, progressive curricular models, novel interprofessional education, educational policy, faculty governance, and cardiovascular health. Her clinical expertise is in cardiovascular and critical care nursing, and her research focuses on support of cardiovascular patients and educational innovations.
"We are very excited to have Dr. Mauro join us as the new dean of the School of Nursing and Health Studies," said Rekha Datta, Ph.D., interim provost and senior vice president for academic affairs. "Dr. Mauro brings a wealth of experience and knowledge about the field of nursing and allied health areas. With her expertise in diversity and leadership in health studies, we hope to enhance our commitment to healthcare education and service to the community."
As dean of the School of Nursing and Health Studies, Mauro will oversee Monmouth University's healthcare program offerings at all levels of education and career experience, including: health studies; health and physical education; physician assistant; undergraduate, graduate, and doctoral nursing programs; as well as post-master's and post-baccalaureate certificates and continuing education programs. The school has approximately 37 full-time faculty members and educates close to 1,000 students.
"I am excited to join my colleagues at Monmouth University and to meet the School of Nursing and Health Studies faculty, staff, and students," Mauro said. "The COVID-19 pandemic has clearly accentuated the critical need to prepare excellent nurses and health professionals to meet current and future healthcare workforce demands. I am eager to build upon the outstanding reputations of the university and school to further enhance our existing programs and create new ones that will address complex population health needs in a dynamic, global environment."
In her previous role leading CERI at Rutgers University, Mauro provided direction for teaching and learning excellence, collaborations in interprofessional education, and advancing nursing education science. She launched the Center for Clinical Learning, which provides innovative simulation-based experiences on three campuses statewide, and transformed the Center for Professional Development, which offers continuing education for nurses and health professionals.
A fellow of the American Academy of Nursing, the American Heart Association (AHA), and the New York Academy of Medicine, Mauro holds several national professional leadership roles. She also serves as president of the Eastern Nursing Research Society and as a member of the Council for the Advancement of Nursing Science National Advisory Council, the National League for Nursing Board of Governors, and the AHA Cardiovascular and Stroke Nursing Council Awards Committee.
Mauro has received numerous awards in recognition of her dedication to nursing education, including the American Association of Colleges of Nursing (AACN) Excellence and Innovation in Teaching Award, the New Jersey League for Nursing Nurse Recognition Award, and the March of Dimes Nurse of the Year Academic Educator Award, among others.
Previously, Mauro was a clinical associate professor of nursing at New York University where she remains an adjunct clinical professor. At NYU, Mauro was a Hartford Institute for Geriatric Nursing fellow, and project director for the Robert Wood Johnson Foundation (RWJF) New Careers in Nursing Scholarship Program, providing leadership development and mentoring for accelerated nursing students from diverse, underrepresented, and disadvantaged backgrounds.
Prior to her time at NYU, Mauro was an assistant professor of nursing at Seton Hall University, where she was a leader in university and college governance and key educational initiatives, including the new doctorate in nursing program, the first entry-level clinical nurse leader master's degree in New Jersey, and implementation of high-fidelity patient simulation.
Mauro has led major health professions diversity initiatives, written multiple publications, and consulted nationally. Her work has been funded by the RWJF, the Health Resources and Services Administration, and others, and has been presented nationally and internationally.
Mauro earned her Bachelor of Science in nursing and Master of Science in nursing education from Seton Hall University, her doctorate in research and theory development from New York University, and a certificate from the Wharton Nursing Leaders Program at the University of Pennsylvania.
Mauro succeeds Janet Mahoney, Ph.D., who served in the post for 11 years. Mahoney will continue with the university as a tenured professor of nursing.
For more information about the Marjorie K. Unterberg School of Nursing and Health Studies, visit monmouth.edu/school-of-nursing-health.