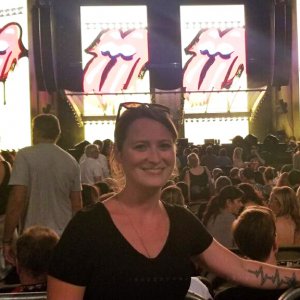 Music industry graduate Alexa Mazurkiewicz Haring '14 recently managed a production team for two sold out Rolling Stones shows at MetLife Stadium. This August, Haring was asked to manage a staff of 10 production runners at the East Rutherford, New Jersey stadium for a Rolling Stones tour stop that amassed 170,000 fans over two nights.
"There's nothing like a feeling when the band hits and the crowd goes wild and you know you were a part of something that made hundreds of thousands of people that happy," Haring said about her experience.
Previously, Haring worked as a production manager at Madison Marquette, an investment company that manages six properties in Asbury Park, New Jersey, which required her to run production administration for venues including The Paramount, Stone Pony, Wonder Bar, and House of Independents. Haring is also a former assistant production manager at the Stone Pony, a role she earned after completing an internship she obtained while at Monmouth.
Joe Rapolla, chair of the Department of Music and Theatre Arts, is not surprised by Haring's success. "Alexa was one of my first students when I got to Monmouth. Having just come from Warner Music and still having my hands in the business, I was used to working with motivated, independent people like Alexa. She was one of the students that made it easy for me to see how to structure the program to prepare young professionals for life after Monmouth."
Haring has kept her Monmouth connections strong since graduating. When building her production team for the Rolling Stones shows, she reached out to fellow music industry graduate Matt Alonso '17 to be a runner at MetLife Stadium. Haring also married music industry graduate Bryan Haring '14, a member of the first Blue Hawk Records (Monmouth's student-run record label) class and current teacher at Lakehouse Music Academy, where the University has an offsite facility. The Harings live in Wall, New Jersey where they own a home.
In January, Haring will join the team at the Count Basie Center for the Arts, where she will manage one of the new performance venues at the expanded center.