Bachelor's+Master's Program in Business
How will you conquer the business world? By earning your B.S./M.B.A. from the Leon Hess Business School, you will receive an individualized and innovative education that prioritizes leadership skills and entrepreneurial thought. Whether your goal is to become a CEO of a major corporation or manage stock portfolios on Wall Street, a master's degree in this field can open the door for exciting advancements and higher earning potential. For 2017, the Graduate Management Admission Council reports that median base salaries for business master's degree graduates in the U.S. range from $70,000 (Master in Accounting) to $95,000 (Master in Marketing). As the value of an MBA is projected to increase over the next decade, there has never been a better time for you to complete our AACSB-accredited five-year program.
Available Concentrations
As a student in our Five-Year Program, you'll start your undergraduate work in pursuit of a Bachelor of Science in Business Administration. Undergraduate concentrations available in the B.S. include accounting, economics, finance, management, marketing and real estate. View the five-year sequence charts for these B.S. concentrations. You'll then complete a general M.B.A. aimed at providing the skills required for management level positions in any industry.
Progression Requirements
At the completion of your sophomore year at Monmouth University, you must have a minimum cumulative GPA of 2.75 and a 3.00 GPA in your major.
For the BSBA/M.B.A. program, you must complete the following courses with a grade of "B" or better:
BA 251 – Principles of Financial Accounting
BA 252 – Principles of Managerial Accounting
BE 201 – Microeconomics
Be 202 – Macroeconomics
BE 251 – Business Statistics
BF 301 – Principles of Finance
BF 304 – Money, Credit, and Financial Institutions
BK 250 – Principles of Marketing
BM 250 – Principles of Management and Organizational Behavior
BM 350 – Operations Management
At the completion of your junior year, you must have 96 credits completed and a 3.00 GPA within your major. If you are a student who was not accepted into your undergraduate degree on the Five-Year Program, you are eligible to apply to complete the five year if you meet the GPA and credit requirements to be on track in the program and apply for acceptance prior to completing 90 credits of your degree. Please contact Associate Dean Gilda Agacer for more information.
Before completing your senior year, you must submit your online Graduate Studies admission application by the May 1st deadline. You must have a cumulative GPA of 3.00. You will be enrolled in the MBA courses you need to complete the graduate degree during the spring enrollment.
At the completion of your senior year, you will participate in the University's Commencement program and receive your bachelor's degree, having completed all requirements for that degree.
You will take two graduate classes in your undergraduate senior year which cannot be applied toward undergraduate credits. Following your undergraduate commencement, you will proceed to summer where you will complete two classes, then four classes in the fall, and four classes in the spring semester to complete your degree.
To remain in the program, you must meet all graduate catalog requirements including the requirement to earn a "B" or higher in all graduate classes.
The Graduate Management Admission Test (GMAT), the graduate application fee, recommendation letters and essay requirements will be waived for students in the Five-Year program.
For more information about Monmouth University's Five-Year Program, please contact the Undergraduate Admission Office at 732-571-3456 or the Leon Hess Business School Associate Dean at 732-571-3423.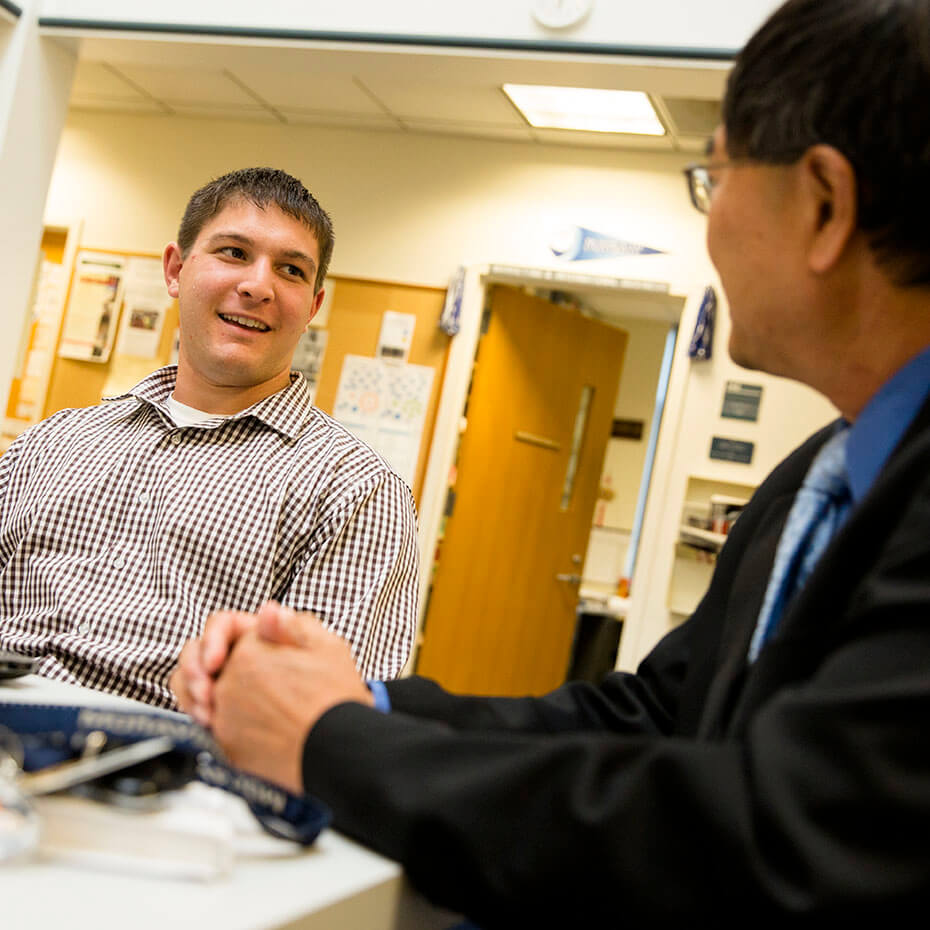 Contact Admission
732-571-3456