H.R. Young and Stephen B. Siegel Endowed Lecture Series: John Dean and James Robenalt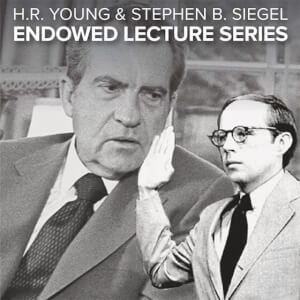 Following the 1972 Watergate break-in and subsequent cover-up by President Richard M. Nixon, the powers of the Presidency have been the subject of much discussion. As a result, both Congress and the Supreme Court have attempted to place limits on the influence of the White House. Over 40 years later, President Donald Trump is testing the limits of presidential power more than any president since Nixon.
John W. Dean, Nixon's White House lawyer whose actions ultimately led to the former president's impeachment and resignation, and now a noted author and CNN contributor, along with renowned presidential historian, attorney, and author, James D. Robenalt, will deliver a program on presidential powers discussing and comparing Presidents Nixon and Trump.
Registration
This free event is open to the public. Registration is required. To register, please contact Theresa Lowy at tlowy@monmouth.edu.