How to Prepare for a Virtual Interview
How can you make a great virtual impression? Many interviews are now held virtually, and the process can feel overwhelming. In this webinar, Sara Palughi '12 will share on what to expect during the interview, how to test the technology beforehand, prepare questions for the interviewer, and follow up after the interview. Come with plenty of questions!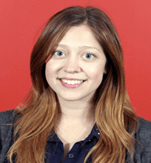 Sara Palughi
iCIMS
University Recruitment and Relations
Since joining iCIMS in 2015, Sara has built and lead the company's University Recruitment Program by identifying and partnering with top colleges and universities to hire the best intern and early career talent to support the company's high growth. After graduating from Monmouth University in 2012 with a degree in Communications, Sara started her career at Citigroup as a Conference and Event Coordinator before joining their Campus Recruitment and Program Management Team in 2014.
This is a co-sponsored event with Alumni Engagement and Career Services.
.attend {
color: #0d64b2;
}
#tribe-events-pg-template .tribe-events-content .headshot {
float: right;
margin-top: 10px;
margin-left: 10px;
margin-bottom: 10px;
}
#tribe-events-pg-template .tribe-events-content .person {
margin-bottom: 5px;
font-size: 20px;
}
#tribe-events-pg-template .tribe-events-content .person + p {
margin-top: 0;
}