Department Chair
Associate Professor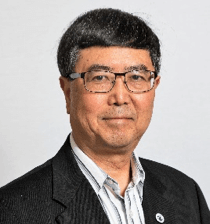 Office

Bey Hall 148

Phone

Email
Regularly Taught Courses

International Marketing BK 453
Marketing Research BK 401
Principles of Marketing BK 250
Managerial Marketing BK 459
Marketing Management BK 509
Global Management BM 471
International Marketing Management BK 535
International Business BM 563

About

Dr. Min H. Lu is Associate Professor of Marketing and currently serves, in third term, as the Chair of the Department of Marketing & International Business at Leon Hess Business School, Monmouth University, W. Long Branch, New Jersey, U.S.A. He was the Chair for the Department of Management and Marketing from 2002-2005.

Dr. Lu has been teaching courses at both undergraduate and graduate levels, such as International Marketing, Managerial Marketing, Principles of Marketing, Global Management, International Business, etc.

Dr. Lu is active in research and presentation at various academic and professional conferences and seminars in the U.S. and abroad. His articles have been published in various journals such as the Journal of Business and Industrial Marketing, International Journal of Quality and Reliability Management, International Journal of Quality Science, and Total Quality Management & Business Excellence Journal, among others. He has presented papers in both domestic and international conferences that focus on marketing management and strategy issues facing the world today. Dr. Lu's works have also been published in several books regarding international business and global management/marketing sustainability.

In addition to his regular teaching, researching, and administrative responsibilities, Dr. Lu has also served as the coordinator to manage export workshops under the JPA1 , an agreement jointly signed by the Leon Hess Business School and the US Department of Commerce, Trenton Export Center. He has helped central New Jersey small to medium manufacturers, technology companies, service firms and exporters in learning and establishing their business in overseas markets. During the past 10 years, the JPA has staged more than 40 export workshops, briefings, events, and conferences geared toward meeting the needs of the central New Jersey business community. Dr. Lu received a Certificate of Appreciation for Achievement in Trade by the US Department of Commerce in 2009. In 2015, Dr. Lu helped the Leon Hess Business School receive the US President's "E" Award by the US Department of Commerce.

Dr. Lu was the first President of the Beta Gama Sigma Monmouth University Chapter, a business honor society for students graduated from the business schools accredited by AACSB. During his first term as the Chair of Management and Marketing Department, he helped established the American Marketing Association (AMA) Monmouth Chapter within the business school and served as the faculty advisor for the Chapter.

Dr. Lu has been actively involved in international educational exchange activities between Monmouth University and universities from China. He helped arrange the visits by the Educational Counselor from the Chinese Consulate in General in New York, and by the President his delegation from the University of International Business and Economics in Beijing, China. Recently he also arranged and participated in a delegation headed by the Dean of the Graduate School and the Dean of Leon Hess Business School to visit 7 universities in China in three major cities, Beijing, Kunming and Shanghai.

Dr. Lu received his graduate and undergraduate degrees from the University of International Business and Economics in Beijing, and his doctorate degree in Marketing and International Business from the School of Business and Public Management, the George Washington University, Washington, D.C., U.S.A.

---

1 JPA is the Joint Partner Agreement between the United States and Foreign Commercial Service, International Trade Administration, United States Department of Commerce and Monmouth University, Leon Hess Business School.

Publications

Scholarly Articles

"Integrating Quality Management Principles into Sustainability Management", Total Quality Management & Business Excellence Journal, co-authored with Chuhua Kuei, 24(1) pp. 62-78."Sustainable Development: A Marketing Perspective," Handbook of Sustainability Management, Editors: C.N. Madu and C. Kuei. World Scientific Publishing Co, 2012."Sustainable Development and Marketing," CEMAC Magazine, (forthcoming).