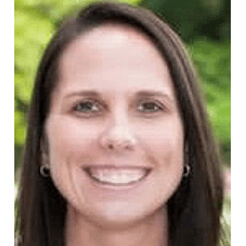 Coaching during a game at Williamstown High School
Melissa James, Adjunct Professor at Monmouth University, teaches Motor Development and Learning (PE 340) and Substance Use and Abuse (HE 260). In addition to teaching at Monmouth University, Dr. James is teaching Nutrition at St. Joseph's College in Brooklyn. Previously, she was an Assistant Professor at Peru State College. From 2004-2013, James taught K-12 Health and Physical Education at Williamstown Independent Schools in Kentucky, where she also served as an assistant basketball coach.
Melissa graduated from Bluffton College in 2003 with a Bachelor of Arts in Health, Physical Education, and Recreation. In 2004 she earned a Master of Science in Education in Sport Science and Coaching from the University of Akron, and in 2010 she earned a Master in Education in Sport Administration from Xavier University. This past winter she graduated with her Doctorate degree in Sport Administration.
In her free time, Melissa enjoys traveling and spending time with her friends and family. She likes attending sporting events and being active herself by playing basketball and volleyball.
2016 NCAA Women's Basketball Final Four Games in Indianapolis with friends
Visiting the Eiffel Tower on a trip with my brother.
Attending the Reds game while they were in town visiting the Mets.
Education
Ed.D., Northcentral University
M.Ed., Xavier University
B.A., Bluffton College