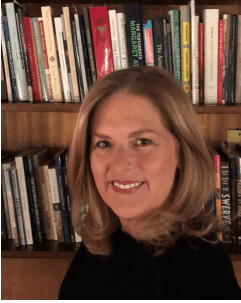 Dr. Mary Kate Azcuy is an Associate Professor of English. Her research and teaching focus on American literature, literary and gender theory, myth, and creative writing. In 2020, Azcuy won a Fulbright Core Scholar Award, lecturing on American Literature and Culture. A Louise Glück scholar, Azcuy has published and presented more than a dozen articles on Glück's poetry. Azcuy most recently presented lectures on American literature, gender, and theory at the University of Cambridge, Université de Lyon, Royal Holloway, University of London, King's College, London, Sorbonne Université, and the National Poetry Foundation.
Azcuy is also a creative writer. She is the recipient of two AIRIE Fellowships in the Florida Everglades. In June 2018, she was the featured reader for the Atelier POEM at the Sorbonne Nouvelle, Université Paris 3. In June 2021, Transatlantica–Revue d'études américaines published several of her POEM "Poetry and Protest" poems and an interview with Azcuy. In addition to recent poetry, Azcuy's creative non-fiction essay "The Red Snowsuit" was published in The Kenyon Review.
Education
D.Litt., Drew University
M.A., New York University
Research Interests
Specialty areas include 20th and 21st-century American Literature, theory, feminisms, gender, and creative writing.
Courses
Recently Taught Classes
2021 Spring
2020 Fall
Frequently Taught Classes