Associate Professor
Graduate Program Director
Graduate Faculty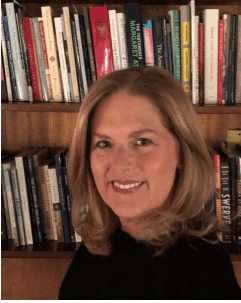 DLitt, Drew University
M.A., New York University
B.A., Monmouth University
Office

Wilson Annex 21

Phone

Email
Courses this Semester

EN 218 Here Be Dragons
EN 424 Postmodern Literature

Regularly Taught Courses

EN 101 College Composition I
EN 215 Vampire Literature
EN 218 Heroic Journeys: Here Be Dragons
EN 334 Contemporary American Literature
EN 398 Special Topics: Literature and Art
EN 424 Postmodern Literature
EN 441 Criticism and Theory
EN 491 Seminar in English: Native American Literature
EN 502 Seminar in Literary Research
EN 542 Contemporary American/British Literature
EN 571 Modern American Literature
EN 581 Women and/in Literature

Research Interests

Specialty areas include twentieth- and twenty-first century American literature, creative writing, mythology, and theory.

Publications

Books

"Persona, trauma, and survival in Louise Glück's postmodern, mythic, twenty-first century 'October'" Ed. Charles I. Armstrong. Crisis and Contemporary Poetry. London, UK: Palgrave MacMillan, 2010.

"Louise Glück's Twenty-First Century 'Persephone the Wanderer': Redefining Earth's Dominion." Ed. Bernadette Hyner and Precious McKenzie. Forces of Nature: Naturalizing Gender and Gendering Nature in the Discourse of Western Culture. Cambridge, UK: Cambridge Scholars Press, 2009.


"Louise Glück, Feminism and Nature in Firstborn's 'The Egg'" Ed. Barbara J. Cook. Women Writing Nature: A Feminist View. Lanham, MD: Lexington Books, 2007.

Scholarly Articles

"Punch, Beating Judy, Gone Girl, and "The Virginian Slave": Women, Objects, and Performing the Political." Punch Conference. Institute of English Studies. School of Advanced Studies: University of London, UK. November 2017. Chair, Mariam Zarif, King's College London.

"Louise Glück's Political Voice: Constraints of the Garden, Ecopoetics and Nature." The Poetry & Poetics of the 1990's. National Poetry Foundation, University of Maine at Orono, June 2017.

"Ancient Connotations for the Heroic Journey of Katniss Everdeen: Women as Heroic Archetypes." Classical Representations in Popular Culture. Southwest and Texas Popular Culture and American Culture Association 2017 Conference. Albuquerque, New Mexico. February 2017.

"Silence and Voice in Louise Glück's Faithful and Virtuous Night." Women's Voices in Poetry. RMMLA 2015 Conference. Santa Fe, New Mexico. October 2015.

"Performance, Dada and Gaga, in the Posthuman World." Theatre, Performance, Philosophy Conference 2014: Crossings and Transfers in Contemporary Anglo-American Thought. Université Sorbonne, Paris, France. June 2014.

"Louise Glück's Irenic Poems, 'Crater Lake' and 'Averno'" Can Literature and the Arts be Irenic? Ed. Jennifer Kilgore-Caradec. AWP Review: The Arts of War and Peace. vol. 1, number 2. Université Paris Diderot-Paris 7, Paris, France. (November 2013)

"Vampirism, Catholicism, and Colonialism, in Gabriel García Márquez' Of Love and Other Demons." Hispanic Monsters, Ghosts, Devils, and Orishas in Latin American and Peninsular Literature, Film, and MusicHispanet Literary Journal. vol. 6 (2013). Ed. Zoila Clark. Florida Memorial U.

"Flannery O'Connor's mythic, post-Edenic, southern-Gothic short story 'The River." Part I. Southern Short Fiction: Representation and Rewriting of Myth. Université Catholique de Lille, Lille, France. 20-22 June 2013.

"Jan Beatty's 'Shooter,' a controversy for feminist and gender politics." FAAAM and EA 370 CREA, 2013 Conference: Women's inscription into the public sphere. Université Paris X, Paris Ouest Nanterre La Défense, France. 13-14 June 2013. Chair, Marie-Claude Perrin-Chenour.

"Louise Glück's post-apocalyptic 'Blue Rotunda' from Averno: Postmodern questions regarding the Perversion of Place." Fringe Lands, Regeneration, and Singular Landscapes. l'université Perpignan, France. 7 June 2013. Chair, Isabelle Cases.

"Resolutions to Difference from Judith Butler's Precarity and Louise Glück's 'Prism.'" Feminist (In)visible Alliances. ESSE (European Society for the Study of English) Conference. Boğaziçi University, Istanbul, Turkey. September 2012. Co-chairs, Hélène Quanquin, Université Sorbonne Nouvelle, Paris, France. Martine M. Faraut, Université de Nice-Sophia Antipolis, Angela V. Joh, Aberystwyth University.

Multimedia

Forthcoming

Women Screaming, Silence, Feminism and Louise Glück's Mythopoesis, the Demeter and Persephone Myths (under contract).

Additional Information

Interview (refereed)

"Jan Beatty." Human Equity Through Art Online. 15 August 2013. heartjournalonline.com/jan/2013/7/11/ce3r5efrwd8icnafrf29rwol66h0ey

Creative Writing: Dr. Azcuy published a creative non-fiction essay in the
Kenyon Review Online, November/December 2017. She most recently published poems in
The Mayo Review, The Exquisite Corpse, This Broken Shore, Proteus,
and Crossroads: A Southern Culture Anthology. She is a twice-appointed AIRIE Fellow, in Everglades National Park.