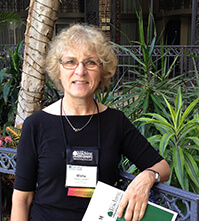 Marta Dochniak Neumann, Ph.D., was born and raised in Poland where she began her career
in physical education and fitness. Marta continued to teach and promote physical activity in her native country for nearly 15 years. She earned both her Master's and Doctorate degrees in physical education from the Academy of Physical Education, Wroclaw, Poland where she also lectured and conducted research programs concerning pedagogical aspects of "education for
leisure."
After moving to the United States, Dr. Neumann was dually appointed as an exercise physiologist and adjunct professor in the Athletics Department and Fitness Center at Monmouth University, West Long, Branch, New Jersey, with responsibilities of teaching physical education courses and creating and implementing university-wide wellness and fitness programs among students, employees, and community residents.
Marta Dochniak Neumann is a Lecturer in the Department of Health and Physical Education at Monmouth University where she teaches Exercise Physiology, Fitness Concepts and Measurements, Strategies for Healthy Living, Yoga, Pilates, and Weight Training. In addition, she coordinates the Department's Physical Education program and is actively involved in curriculum development for the Health and Physical Education major.
Dr. Marta Dochniak Neumann holds teaching credentials in K-12 Physical Education and is a Medical Exercise Specialist (American Council on Exercise), ACE certified Personal Trainer, and holds the Senior Fitness Specialty Certification.
Education
Ph.D., Academy of Physical Education, Wroclaw, Poland
Master's Degree in Physical Education, Education , Wroclaw, Poland
Professional Associations
American College of Sport Medicine
American Council of Exercise
American Alliance for Health, Physical Education Recreation and Dance
Additional Information
Specialty Areas: Physical education, physical fitness, and wellness.