Associate Professor
Departmental Career Advising and Internship Mentor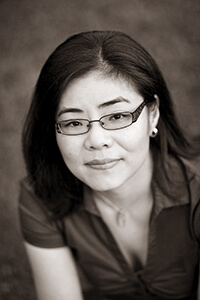 MFA, Georgia Southern University
BFA, Sichuan Fine Arts Institute, China
Office

Rechnitz Hall, 302

Phone

Email

Web site
About

Jing Zhou (周竞) teaches graphic design, web design and UI/UX design, digital illustration, and typography. Professional work includes graphic design, interactive media, social poster design, web design,
video, packaging, corporate identity, digital print, photography, art
direction, and fine arts. Born in ChongQing, China, Jing's work experience consists of the entertainment industry, a packaging design corporation, and prestigious design studios in the U.S. and China. Her clients include international organizations such as Greenpeace. Jing's award winning work has been widely shown, published, and collected internationally including: Triennale Design Museum, Milan; British Computer Society, London; Asian Cultural Center, Manhattan; SIGGRAPH Art Gallery; ISEA; CAA; Les Abattoirs Museum, France; Royal Institution of Australia; RE-NEW, Copenhagen; New York Hall of Science; Danish Poster Museum; Sardinia Film Festival, Italy; Athens Digital Art Festival, Greece; Taksim Republic Art Gallery, Istanbul; FILE, Sao Paulo; Visual Information Design Assn. of Korea; Goethe Institute Alexandria, Egypt; Mundaneum, Belgium; Brown University; Stanford University; Hungarian Electrographic Art Assn., Budapest; Prix de la Photographie Paris Awards; public collection of the WRO Media Art Center, Poland; Waikato Museum, New Zealand; Museum of the Living Artist, San Diego; and the Chinese Culture Center of San Francisco. Numerous books and magazines such as "Computer Graphics World," "Photo Techniques," have published her work. Ms. Zhou is also a Gold Medal recipient of the Art Directors Club of New Jersey, Gold Winner of the American Design Awards, and Prize Winner of IFUW Poster Contest in Geneva.