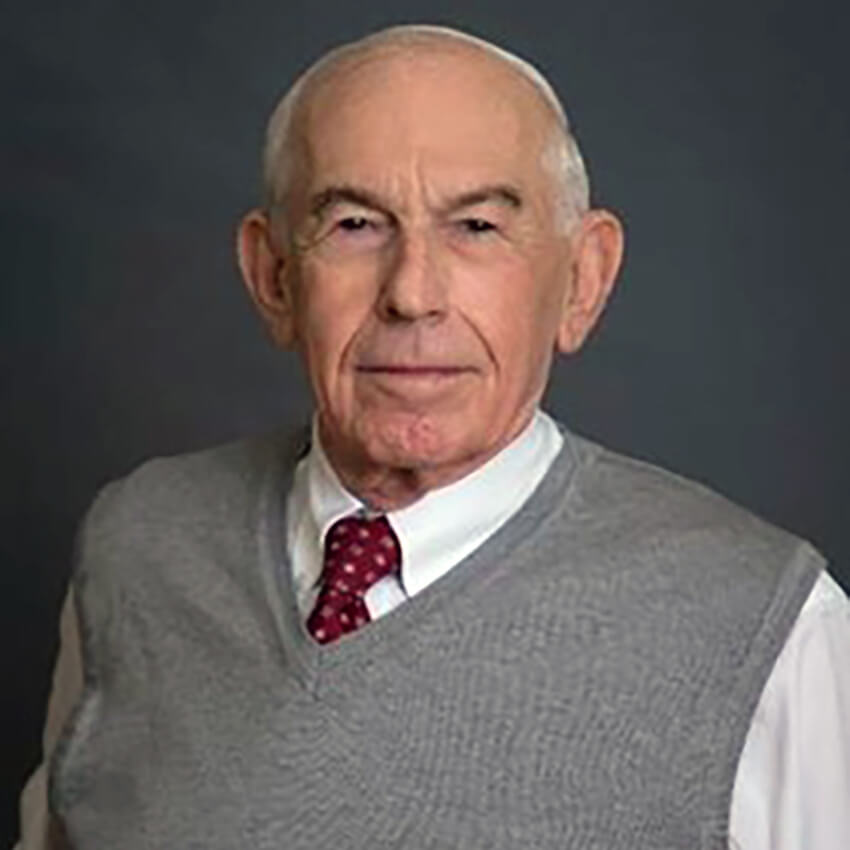 Dr. Mack has been researching the efficacy of essential oils and methylglyoxal as antibacterial agents against multidrug-resistant bacteria since 1999.
Presently, he is focusing his research on the development of topical emollients of essential oils and methylglyoxal in carrier oils to combat multidrug-resistant bacteria to be used in health-care settings.
Co-founder of the MU MEWS program in 1988 and its Director for 21 years
Co-founder of the Pre-Professional Health Advisory Committee in1974 and its Director for 38 years
Vice Chair of the Faculty Council 1976 and its Chair from 1977-1984
Biology Department Chair 1981-1984
Chaired the Committee to reestablish the MU Athletics Hall of Fame in 2007
Appointed by Governor Keane to the NJ Clean Water Council 1983-1990
Education
Ed.D., Columbia University, Teachers College (Heft Scholar and Deans S. Edmonds Scholar)
M.A, William Paterson College
B.S., Monmouth College
Research Interests
1. The Inhibitory Effects of Pure Essential Oils and Methylglyoxal on Multidrug Resistant Bacteria1. Study of Antimicrobial Properties of Combination of Essential Oils and Methylglyoxal
2. Development of Topical Emollients Containing Specific Essential Oils and Methylglyoxal to be used to Combat Multidrug Resistant Bacteria especially in nosocomial settings
Scholarly Articles
Rosenblum, J. S., Rosenblum, B., Pant, H., Mack, J.P., Schreiber, W. 2017. Cdk5 and Catalase: Interaction of Neuronal Regulation Systems. Nova Science Publishers, Chapter 8, Advances in Medicine and Biology. Vol 121, 173-198.
Grullon, J., Mack, J.P., Rojtman, A., 2016. Using Essential Oils to Combat the Threat of Multi-Drug Resistant Bacteria, Pseudomonas Aeruginosa. Int Pharm Pharm Sci, 8 (12), 180-183
Cieslak, E., Mack, J.P., Rojtman, A., 2016. Essential Oils and Methylglyoxal: A Possible Alternative Treatment for Antibiotic Resistant Bacterial Infections. Int J Pharm Pharm Sci, 8 (9),107-110
Qureshi, W.K., Palayekar, V., Dyan, E. Mack, J.P., Rojtman, A., 2015. Combating the Antibiotic Resistance Threat. Int J Pharm Pharm Sci, 7 (2), 68-72.
Sharma, P., Mack, J., Rojtman A., 2013. Ten Highly Effective Essential Oils Inhibit Growth of Methicillin Resistant Staphylococcus aureus (MRSA) and Methicillin Sensitive Staphylococcus aureus (MSSA). Int J Pharm Pharm Sci, 5 (1): 52-54.
Awards
Dr. Mack, a Monmouth University Alumnus, has received numerous awards including the following:
Gene Simko Faculty Leadership Award (2020)
Distinguished Teacher Award (2014)
Warncke Award (1999)
Alumni Service Award (MU Alumni Board: 1985-2016)
Recipient of a New Jersey Senate and General Assembly Joint Resolution in recognition for distinguished teaching (2014)
Student choice awards: 1998, 1990 and 1998.
Faculty merit awards: 1987, 1998, 1989 and 1992
The Virgil F. Payne Award from the ACS –Monmouth County Section
Courses
Recently Taught Classes
2023 Fall
2023 Summer E
2023 Summer B
2023 Spring
2022 Fall
2022 Summer E
2022 Summer B
2022 Spring
2021 Summer E
2021 Summer B
2021 Spring
2020 Fall
2020 Summer E
2020 Summer B
2020 Spring