Adeola M. Sonaike, Ph.D., MPH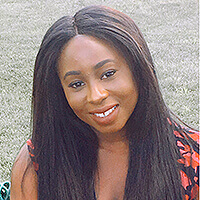 Ph.D., Public Health Epidemiology, Walden University
Master's in Public Health, Walden University
Bachelor's in Biological Sciences, Rutgers University
Office

Phone

Email
Regularly Taught Courses

HE/NU 440 – Health Policy

About

Dr. Sonaike has a strong background in Public Health where she specializes in chronic disease prevention and epidemiology. In 2011, she began her work with The Family Resource Network where she is responsible for the development, evaluation, expansion and oversight of national health and wellness programs for people with special health care needs. Passionate about inclusive health and wellness opportunities, Dr. Sonaike provides consultation services to additional National Organizations to assist them with the development of wellness initiatives.

She is a member of the first cohort of the Robert Wood Johnson Foundation Culture of Health Leadership Program where she works collaboratively with other leaders in a cross-disciplinary effort to address top-of-mind issues in health and equity in local communities and nationally. Dr. Sonaike is also responsible for the oversight of Health Insurance Marketplace Navigators under the Affordable Care Act across 5 counties in New Jersey.