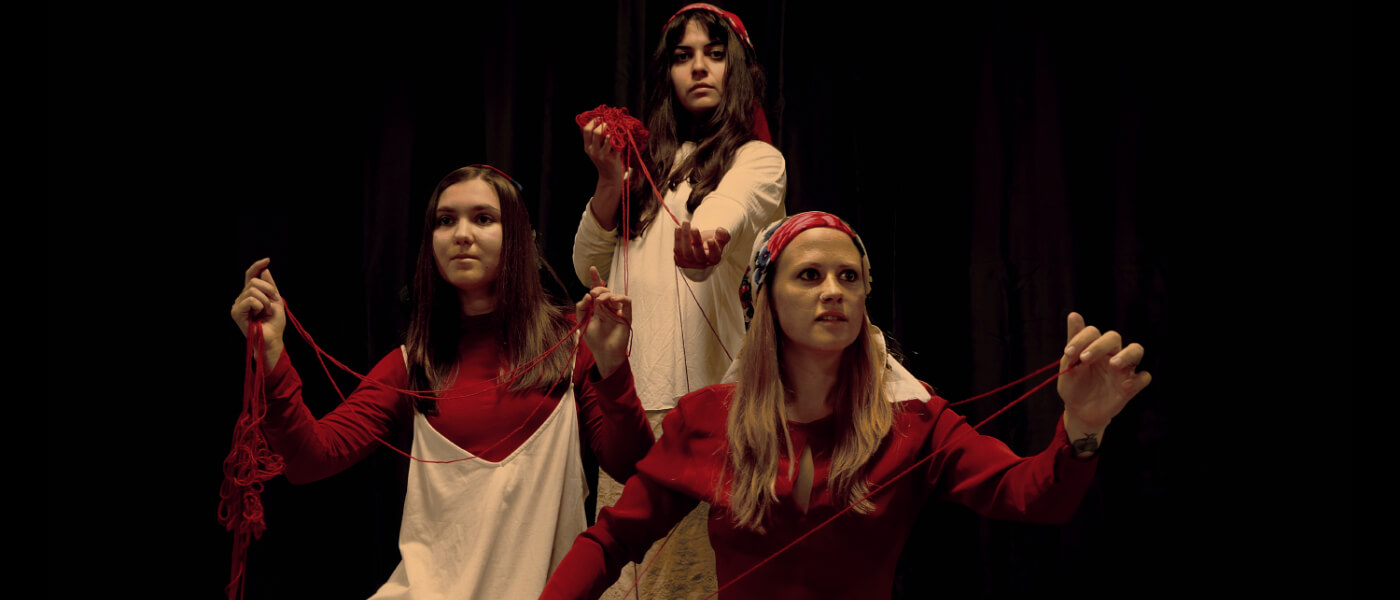 Performance and Q&A: Tuesday, January 23 | 4:30pm-6pm | Woods Theatre
Theater of Cultural Resistance Workshop: Wednesday, January 24, Date and Time TBA
Inspired by the culture of the Kurdistan region in Turkey, this performance takes us on a poetic voyage into the life of the minority group from the mountains, a life which took its shape from endless oppression. Carpets, looms, tea kettles and strings create a landscape in which three women embody being separated from the ones and the places they love and what this separation can do to the human heart.  Accompanied by modern takes on traditional Kurdish music, this international group of performers shares the experiences of many like the threads woven into a beautiful global tapestry through poetry and movement.
Bios:
DENIZ HEVAL KANDEMIR
Deniz Heval Kandemir is a Kurdish actress from Dersim. She first began to discover the world of physical theater and its pedagogy in Istanbul. After completing her BS in Political Science at Galatasaray University, Heval moved to Paris to study at the Jacques Lecoq International School of Theatre. Upon receiving her diploma, Heval jumped right into the world of theater in Paris. She began with a role in Metronians, hosting theatre workshops for immigrants in Paris, and she is currently working on developing her own clown. She and her family have fled Turkey because of cultural repression and are living abroad.
DARIA HOLOVCHANSKA
Daria was studying at the Kharkiv National University of Art (Ukraine) until the war began on February 24th, 2022, when she transferred to Aleksandr Zelverovich Theater Academy in Warsaw (Poland) to finish her Master Degree in Puppetry. Daria previously worked at Kharkiv National Academic Puppet Theater, performed in "Fairy tale for a little rabbit" (rabbit Sister, Hedgehog), "Princes spec" (Queen Isabelle), "Magical ring" (Angel), and "Mother Courage and her Children" (Katrin), directed by Oksana Dmitrieva. Daria is one of the founders and actresses of TERRA Theater Company (performances "Peace to your home", "Our City", "Night Call"). She also took part in Slovo.Theater group, where she was a co-director, actress, lighting designer and mask maker of the performance "Mothermotherland". Recently she performed in one of the biggest puppet festivals in the world in Charleville-Mézières 2023. She is interested in movement theater, objects, materials, puppets, stop-motion animation and masks.
AUDREY ROSE DÉGEZ
Audrey Rose Dégez is a producer, director, playwright (Our Common Thread (2015), Empathize Me (2016), Mothermotherland (2022)), actress, mother, and wife from Pittsburgh, Pennsylvania (USA) and Paris (France). She received a BA in English Literature from Rutgers University and a professional acting diploma from l'École Internationale de Théâtre Jacques Lecoq in Paris. Scheduled to write a play at Residency Slovo in Kharkiv, Ukraine in September/October of 2022 as the first international resident in Slovo Building, she made the decision to found Slovo. Theater Group after the invasion of February 24th. For the last 10 years, she has been developing CP4P International Productions through trauma-informed storytelling poetry and theatre workshops around the world. She has lived in Berlin and Paris, where she has created theatrical performances in English with children and volunteered with Syrian and Ukrainian refugee communities abroad. In her spare time, she is passionate about making incredible vegan cookies with her daughter, Lili Maritchka.