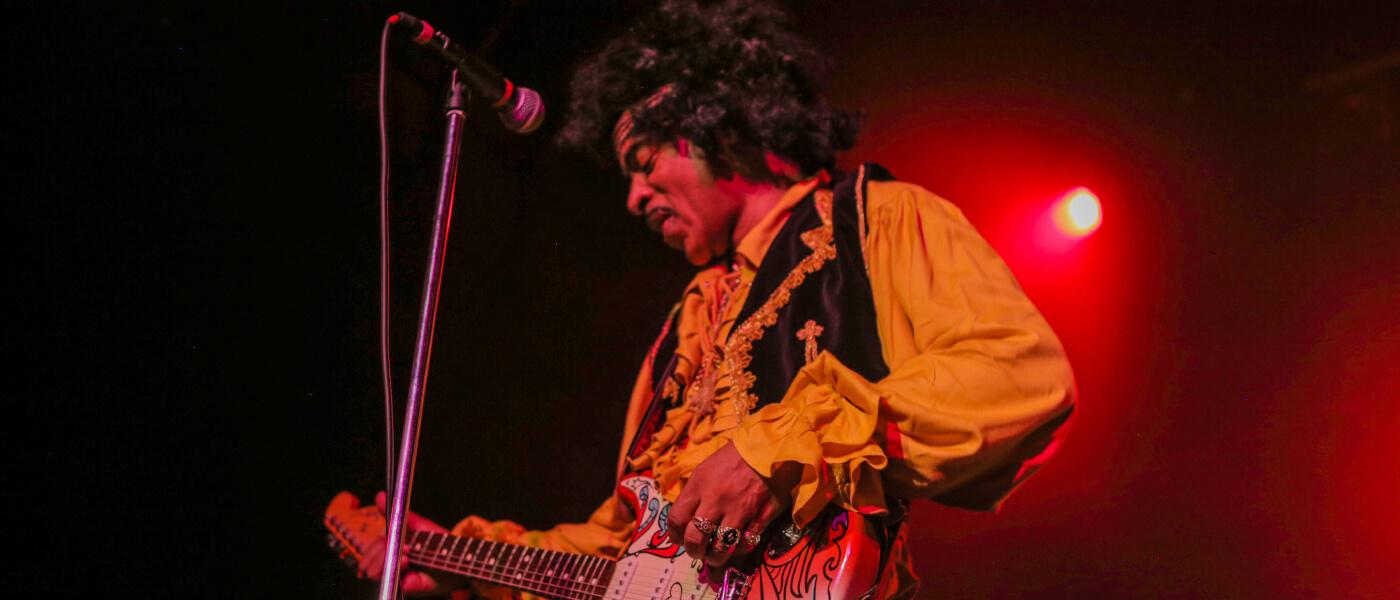 Past Event
Performing Arts Series
AMERICAN GURU: Jimi Hendrix and The Spirit of a Generation Presented by Jimy Bleu, Eliott Landy and Leonard J. Eisenberg
This three-part lecture-demonstration focuses on Jimi Hendrix and his contemporaries. Told through photographs and guitar technique demonstrations Jimy Bleu focuses on Hendrix' rise to super-stardom, his tremendous impact on Popular and 'serious music', his indefinable musical style, his virtually unknown potential as a spiritual leader and his political awakening which coincided with the turbulent times of that era in the United States. Bleu's research, documentation and musical illustrations stand alone in presenting the most comprehensive and at times unheard viewpoints and topics about this remarkable musician. Learn why almost 50 years after his death the iconic Jimi Hendrix is still incredibly relevant and named "The Greatest Guitarist of All Time"!
Leonard J. Eisenberg tells the story of Jimi Hendrix through photos taken by him at three concerts in the 1960's and recently published in his book "Photographing Jimi Hendrix." In 1968 Leonard was three feet away from the guitar god at The Boston Garden allowing him an unprecedented point of view. His photos of Hendrix at Woodstock have been seen around the world and photos from The Carousel in Framingham, MA are renowned. Hear the stories of how these amazing images came to be.
Join Elliott Landy, official Woodstock 1969 photographer as he presents a journey highlighting Jimi Hendrix, iconic photos of Woodstock and the events and personalities of the historic late 1960's era while telling the behind the scenes stories captured by his camera lens. His instantly recognizable photographs of Jimi Hendrix, Janis Joplin, The Band, Bob Dylan, Van Morrison, pre Vietnam protests and legendary performers still resonate with audiences today.